The previous episode is here.
Diane leaned back against me, still stroking her cunt, hard and fast, with finality. She lifted her thigh to be whipped, as I'd commanded, but though I'd told her she couldn't come yet, that had been overreach on my part. There was nothing that she or I could do, at least nothing that would be any fun, to stop that orgasm in its tracks. Or even delay it much.
So I whipped the switch down on her inner thigh, hard enough to raise a welt, but the cry she made was pure, wild pleasure. So was the second cry when I switched her again, about fifteen seconds later. There was no time for a longer gap between strokes. Once she'd given her pain song again, with that second stroke, Diane couldn't stay quiet any longer. She sang, "nnnnnerrrrr eeeerrrrrnnnn", in my ear, the sound wavering as if she were riding a horse in full gallop.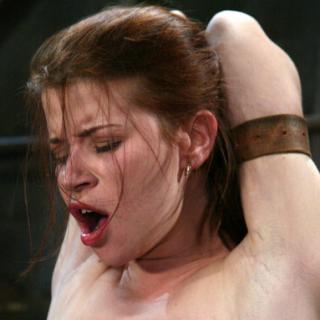 A little later Diane's whole body stiffened and she fell silent because she'd stopped breathing, I whipped her inner thigh again, as close to her cunt as I could get without the switch hitting the back of her hand. Diane cried out just once with the pain, her body braced hard against mine, and then her orgasm took her. Though she looked as though she was screaming, she came in silence, mouth working, staring up at the moon-bright sky.  
Afterwards I whispered, "good girl, yes, good girl, darling", while she gasped and fought for control. When she seemed to have almost caught her breath, I squeezed her breasts again, pinching her nipples as hard and painfully as I could, and a second wave of orgasm took her. 
The next episode is here.