The previous episode is here.
Diane scampered, shirt flapping at the tops of her thighs. This time she was all business, and she crouched to look for switches for her birching, rather than the coquettish display she'd given me earlier, all hip-swinging and wiggling, and bending, legs apart, at the waist.
There were plenty of bits of freshly fallen branch on the ground, with thin switches, still green and flexible available. She picked her switches, broke them from the branch, and brought them to me.
She probably ran a few seconds over the five minutes I'd set her, but I was watching her, and not my watch. Anyway, I had a duty of care, now that she was doing as she was told, and though I'd enjoyed making the threat, I had no intention of walking her naked through the streets, even if it was a quiet and safe neighbourhood. Still, she couldn't be sure of that, so she hurried.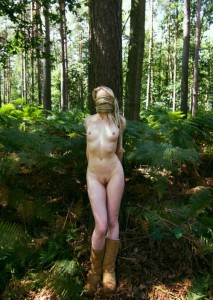 As she handed me the last switch, she was a little out of breath. She asked, "Are these okay?"
"Perfect. And in case you were wondering, you're still a good girl." 
She grinned. "I've never been one of those before." 
"Have you ever been birched before? Or not just birched, whipped or caned or anything." 
"I had a boyfriend who liked to spank me. But mostly he wanted me to whip him. With a belt."
"How did you like that?"
"It didn't do much for me, I mean whipping him. And when he spanked me, it was kind of … pathetic. He kept asking and apologising, and it was never hard. No-one else has even tried. Vampires just don't get whipped; you really should understand that." 
The next episode is here.