Claire stepped quite naked into my arms. I reached down and patted and smacked her bottom, holding her tight. We kissed. Eventually, I said, "When were you last fucked, Claire?"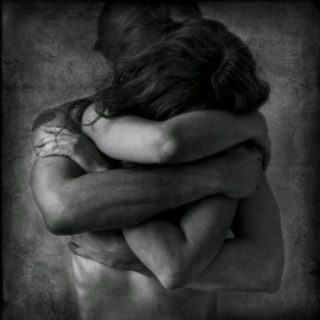 Claire looked at the floor. "That guy. My husband's friend. A year ago. He stopped fucking me after Bill found out." So I learned her husband's name was Bill. I smacked her again, then reached lower, to part the cheeks of her bottom and touch her pussy. Of course she was a wet woman. She hissed again, that in-drawn breath, when my fingers found her, pressed her labia and pushed easily, wetly inside.
"I'm going to fuck you after I've caned you. You know that, don't you, little Claire?"
She grinned. "I didn't know it for certain." It was happy knowledge. "But yes, sir, you may fuck me. If you cane me hard."
"Hah. I don't think either of those things is up to you any more." Of course they were up to her. But we'd both have more fun if I said otherwise. She nodded gravely, as if what I'd said was true. I kissed her again, and raised my hands to hold her breasts, each a little larger than I could hold completely in one hand. I squeezed her nipples between my thumb and forefinger. 
She sighed. "Yes. It has been too long. I'm being greedy, I think. I want everything you can give me."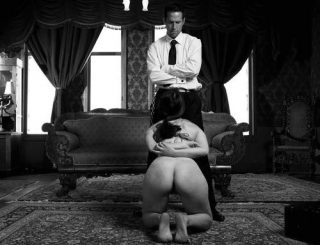 "Good. Drop to your knees, girl."
"You want me to suck your cock?"
"Now."
Claire dropped to her knees, as instructed. She unzipped me, and fished out my cock, utterly hard and straight for her.
She looked at it for a moment, and said, "Mine. Well, it is for the moment." She kissed the tip. I pressed the buzzer on my desk.
Claire had my cock deep in her throat, sucking intently, when Maddie said, "You called, sir?"