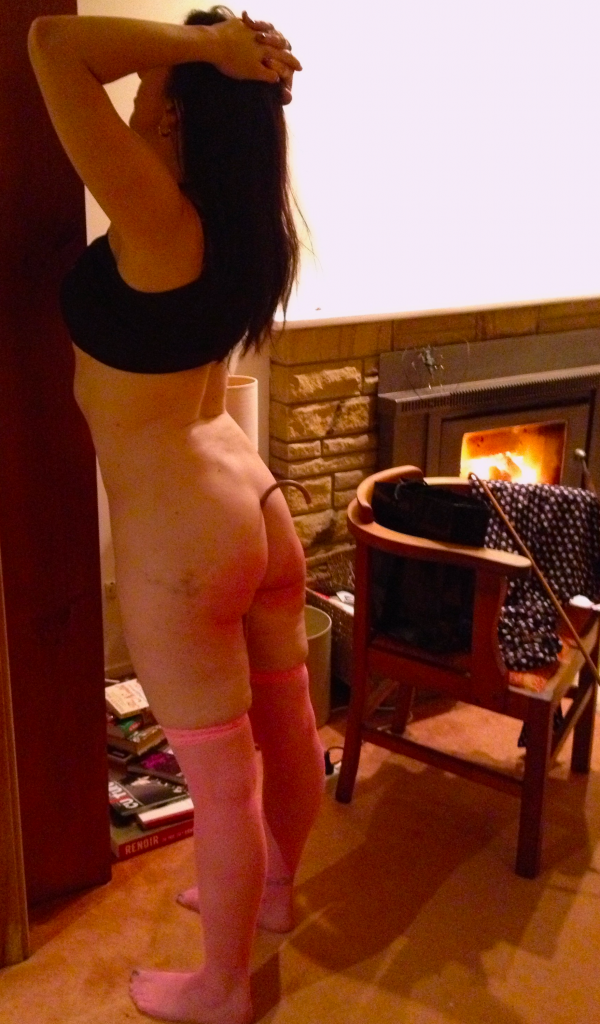 She stands up straight, as she's been told. Master sits behind her. She thinks he's reading a book. She's to have the second instalment of her punishment for twice missing a doctor's appointment. He knows that she was afraid that the doctor would find cancer, and though she knew it was stupid to delay finding out, she couldn't face it. 
Master had said he was going to punish her for disobedience and for failing to look after herself, which were the two most serious offences under his rules. She'd already had a hand spanking and a session with his belt. But they'd felt good, apart from his disappointment in her: that had hurt.
But the real punishment was yet to come. He'd put the cane between her buttocks and told her to make sure she held it while she waited. She wouldn't enjoy what would happen if she let it fall. 
So she waits, with the cold, hard instrument pressing into her. Until she is called. 
Post-script: They made another appointment, and he took her to the doctor himself, and came into the appointment with her. So he was with her to hear that her tests had come back negative. She was spanked (but not caned) again that night, but warmly and lovingly, out of relief.