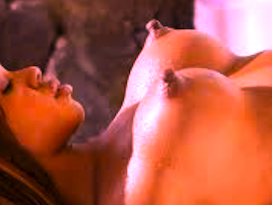 It's always nice to talk about nipples, isn't it? For example, the German word for "nipple" isn't really "Brustwart", or "breast wart": it's "Nippel". Now, here's the thing about Sa'afia's nipples. They'd be purple-black and flat when she was resting, but when I kissed and squeezed them and they woke up, they'd perk up, all erect and yearning to be kissed and bitten. And they'd turn from purple-black to purple-pink.
I loved making that happen. Now, she wouldn't have had nipples like that if she wasn't Samoan, or didn't have Polynesian ancestry. But were they Samoan nipples? Nah, they were just Sa'afia's.  
Her mouth was wide and her lips sweetly full. And there were freckles, for heaven's sake, on her forehead and cheeks and nose, under the brown. She owed those things to her Polynesian ancestry too, and I thought they were wonderful. 
I liked things about her that were Samoan culturally, though not genetic. Her body was slightly shiny when she was naked because she rubbed herself with cocoanut oil. When I licked her she smelled of cunt and cocoanut.
I liked the tapa cloth on her wall, depicting her parents' village. I liked the little carved canoe with sea-shell eyes, on her bedside table. Even the care she took not to make her mother have to admit she was having sex appealed to me. For no reason except that it was different. Those things were hers because she was Samoan, too. But I liked them because I liked her. Not the other way around. 
Sa'afia's other fear was that I was with her only because I really wanted Ana, and I couldn't have Ana. That I was fucking her because she resembled her cousin. That was the nerve I'd touched when I'd asked her about Ana's father.