Sa'afia hesitated, or she pretended to. "Yes, sir."
"That's better. Now, what am I going to do if you don't please me?"
"You wouldn't spank me?" It was a tone of voice that went with batted eyelashes and other signs of utter sincerity.
"Sa'afia, you know I won't. I'm not going to use my hand. What will I use?"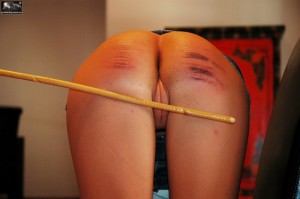 "The stick."
I wondered what "the" stick was. It sounded promisingly specific. I said, "Now, do you think I'm pleased with you?"
She sounded very solemn. "No, sir." She was laughing at me, and yet I knew that if I touched her she would shake. Just as I was both amused and excited by her. 
"So what are you getting?" 
"You're going to give me the stick, sir." 
"Exactly. Hang on." The director had stuck his head in my office door, and mouthed, 'my office'. He'd only heard me say, "so what are you getting", which might sound like a probation officer thing to say. 
I said, "I'll see you at six." The director had left the door open, and I wasn't sure how far away he was. I assumed I could be heard. "And that item we discussed -"
"The stick?"
"Yes. That item will be on the table for our meeting."