It was after one in the morning.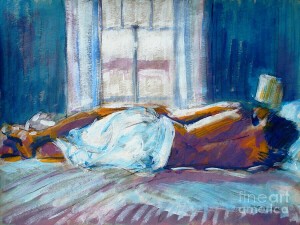 I lay on my side with Sa'afia spooned against me. I had my arm round her, and my hand cupped her breast. A soft breast, with a hard purple-black nipple. It moved when she breathed. It was tender, in my hand, a reason why men might love women.
Her bottom glowed pleasantly warm now, but it had been burning hot not so long ago.
When I'd last seen it, her ass had been a beautiful brownish red. But the night had got colder while we'd fucked, and eventually I'd let her slip under the bedcovers. While we'd fucked I'd spanked her, just with my hand but hitting hard till it hurt her.
She'd sworn, and bitten my forearm while I hurt her, and claimed all of my cock inside her. We'd fucked hard, and we'd found that so long as I gave her cunt plenty of attention she didn't seem to have a point at which a hand spanking could hurt her more than she liked.
Some time early in the night she said she'd lost count of her orgasms. I didn't know how many she had, either. But she screamed her pleasure over and over, politely thanking me each time, as if I saved her soul when she came. More prosaically I came just three times, but they had left me happily exhausted.
We lay breathing together with the light out. The half-moonlight flowed through Sa'afia's window, catching highlights in her hair and the shiny sweat on her face. There were photographs above her bed, scenes of a Samoan village, in a wooden frame studded with seashells. There was a poster of the young, wet-lipped Mick Jagger, and a charcoal drawing, simply framed, of Hine-Nui-te-Po, the Great Woman of the Night, goddess of death, feeding her children.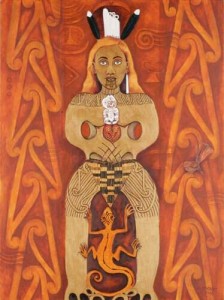 Hine-Nui-te-Po was a Maori goddess, not a Samoan one, but the drawing was somberly beautiful. I knew why she would want to have it. I suspected it was quite valuable. The furniture was simple and old, in mahogany or whitewashed. There was something nautical, sailorish, about the taste and style. 
 I squeezed her breast affectionately. People who worked in the morning needed to fall asleep soon. Sa'afia was a gofer at a local law firm, where they liked having a well-presented Samoan woman regularly walking across the reception area. In fact she was studying chemistry, but there were no relevant jobs in a small city. She didn't want to work at a chemist.
Sa'afia wasn't ready to sleep, though. I could see she was frowning. 
"You said you think Minnie Mouse is sexy." 
I didn't realise immediately that this was dangerous ground. "Yeah, it's the bow. And the clumpy shoes. And she's always flashing her knickers."
Sa'afia said, "and she's black. Have you always liked the black girls then?"
"Minnie Mouse is black?"