Sa'afia got up early next morning, muttering something. I didn't argue. We'd had two hours' sleep. I was only half aware of her leaving. I woke up later, alone. I was sad she'd gone and didn't expect her back, but I went back to sleep. 
I was still asleep in mid-morning when she came back. She'd put her hair up and a red flower behind her ear. She was wearing my biggest white shirt with a belt, and my smallest, blackest jacket. She looked neat and tidy, and pure, like a girl at a Samoan church. It was Sunday, of course. I'd forgotten about Sundays and churches. I thought of the congregations I'd driven past at Samoan churches, and decided – despite her bare legs and sneakers – that she'd probably passed. 
I said, "Hello, you. Where'd you get the hibiscus?" 
"Tree near the church."
"Cool shirt."
"Oh Jaime, I'm sorry. I needed to wear black and white, and I didn't want to wake you. It's, well, I can't go to church looking like I didn't get home last night. They wouldn't stop talking about it. I mean for years."
"I suppose not. You slut." She did a supermodel 'flirt' pose, with a twirl of hair on her finger, looking at me sideways, showing me dimples. She was full of herself, having fooled her congregation. And maybe her mother. Maybe. "Wonder slut. Beautiful slut. And it's okay, you're welcome. That shirt looks way better on you than me."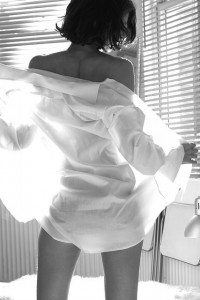 Sa'afia put my jacket over the back of a chair, and began to undo buttons. "No. It looks better in, Jaime, don't you have a clothes basket? Well, on the floor, then."
She stripped quickly and without any trace of last night's shyness. She skimmed down her knickers. But the bra was still the last thing she took off. I wanted to put my face between her breasts, and then my cock. But remembering last night's shyness about her breasts, I said, "Yes," with fervour, as applause.
So Sa'afia stood naked, not posed as anything, just letting me look at her.
I sat up and pulled the bedcovers aside. "Get your ass here. Now."