Ana undid the top button of her blouse. She looked up, watching my eyes throughout the little bow she took, to see if I glanced down at her warm, brown, slightly conical breasts. I said, "Off-white, lacy plunge bra. You've been shopping. Lovely breasts, that's not new."
"But you noticing, that's new."
"God. No, it isn't. But if you thought I wasn't noticing …"
"I thought you were gay. And then that you were made of stone. And then I thought you didn't want me." She managed to look hurt, convincingly. "I wanted you. Now you're looking at me."
"Yeah well. I was trying to be…" I didn't want to speak the word "professional". I was about to fuck a client. "Ah fuck it." I took a sip of beer. "Anyway, you're going to get that spanking you've been angling for for the last year."
"Just a spanking?" Ana took a long sip of the Tequila Sunrise. She just had some of the red and the bottom layer, which was green, to go. She drank her cocktails with great care.
"And if that doesn't mean I fuck you afterwards, I'd be pretty amazed."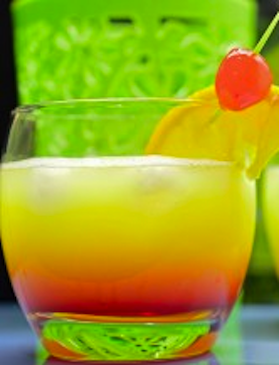 Ana scooped up the last of the grenadine, making it chortle through the straw like the end of a milkshake. "I wouldn't be surprised at all." She tipped the straw. The grenadine ran dark pink under the shirt, and onto the slope of her left breast. It would be hard to get it out of the bra. She shivered deliciously as the granulated ice liquified on her skin, and ran down the slope of her breast.
I stood and reached for her glass, putting it out of her reach. "We're going to my place. Now." I took her hand and pulled her out of her chair. Ana followed me, but at the door she took one last look back at our table.
She'd never walked away from a cocktail before.