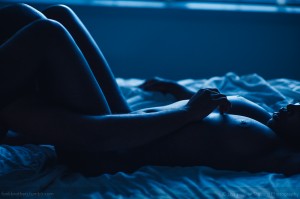 Sa'afia bounced when she hit the bed, and sprawled on her back, ungainly and astonished. She said, "whooo!"
I put my knee on the bed and slid my hands under her ass. Sa'afia lifted her legs for me. She hoped I intended to lick her cunt. Perhaps for a long time. 
But I pushed her ass further up the bed until her head was near the wall. Then I followed her, till I had both my knees on the bed. I gripped her cunt hard, squeezing the lips. It had to hurt a little, though it was possible that in her current state of mind and body Sa'afia couldn't feel anything as pain. 

I said, as one does from time to time, "Whose is this cunt?"
Sa'afia frowned. She didn't know what I meant. The question is a cliché these days, though it's a good one. She just hadn't heard it before. She thought, and after a short pause her brow cleared. "Yours. Sir."
"Good. Good girl. And damn right."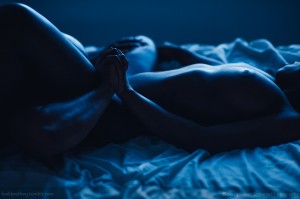 I held her labia hard, and kissed her belly to let her know that things were well. Then I licked her clitoris, while my fingers were still hurting her lips. Sa'afia gasped, and then moaned a little: it had hurt. But I continued, squeezing and then licking, for a few minutes, and her reactions changed. She accepted that rhythm.
The pain wasn't unexpected any more, though it was still intense. It was a certainty, like my tongue returning to her clitoris after I'd hurt her. She rocked under me, her stomach undulating. Later she said, "please".
I put two fingers in her, then three, still licking. Sa'afia closed her thighs on my face, rubbing herself on my stubble. I tried to say, "Come, pretty darling," but it was hard to talk. Anyway, Sa'afia screamed, and rocked, her body tensed, and screamed again, louder. Some instinct told me not to stop, and she screamed twice more, a little less dramatically. Then she let her head fall back onto the bed, and spread her arms out. 
I climbed up and kissed her breasts, then her cheek with my wet face. I said, "how's my darling?" I suppose I expected praise.
Sa'afia sighed happily and said, "oh, my little man." But she said it lovingly, so it would have to do.