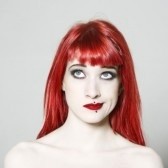 She said, "Why?"
She spoke in the whiny tone sometimes adopted by submissives who think they've gone unspanked for too long. At least that was my first reaction. Of course, her speech was affected by the wish neither to swallow nor dribble. She was speaking with her mouth full, and she'd been told not to do that by authorities higher than mine. Her mom, for starters.
So I didn't repeat the command, or threaten the pallor of her bottom. Actually, it was a good question. 
I opened my mouth. I shut it again, and thought.