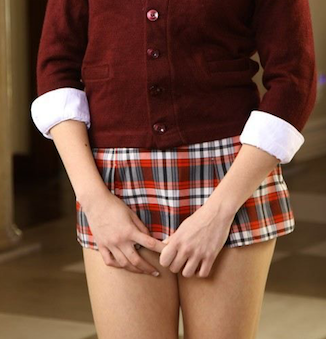 I was half excited [Maddie said], and half afraid. The Headmaster, his name was Mr Hunter, was a fox. Cool, sculpted smiling face, And he was sort of skinny, but in a cool way. You know, I thought he was older than he was – like Jennifer probably thinks of you – but I fancied him anyway. 
I knew he was going to punish me much harder than my silly teacher.
That scared me, but I could feel that thought in my belly and in my cunt too. I imagined him reading the note: then he'd look at me, just the two of us in his room. And he'd tell me how he was going to punish me, and what I had to do to make my body available for him.
It wouldn't be the same as making my body available for him the way I wanted most, the way I wanted him to want me. But it was still sexy. Unimaginably hot. I remember I was shaking, just from the desire I felt. It was like nothing I'd known before. 
I'm going to have to cut here, though. This has been published and my publishers don't want free competition from me. You can read it here.