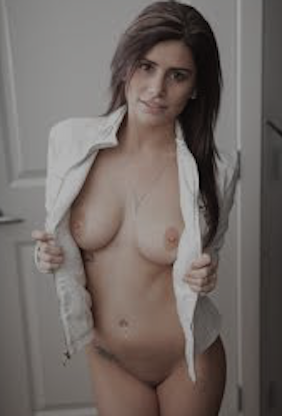 Dorabella didn't quite manage to stop laughing, but she kept coming up the stairs. When she got close she saw the look in my eyes, and interpreted it correctly. She put both hands over her bottom before taking the step that brought her into my reach. 
That was cool, I thought. All she had to do, if she didn't want me to indulge in domly pleasures with her, was say no. She knew that as well as I did. So although the gesture seemed to be self-protective, she was telling me – inadvertently or not – that she wasn't going to speak that "no". So, as long as I kept the tone playful, that ass was very much mine. So I smiled at her, and said, "Good girl."
"For what?" But she knew. I didn't answer, except by reaching for her. She dodged half-heartedly but let herself be caught. I held her, hugging her waist, and she took her hands away from her bottom to hug me back. She tilted her face up a little, to be kissed.
So I did, open mouth to open mouth. Eventually, she relaxed against me and her robe opened narrowly, but all the way from her breasts to her knees. I took a handful of robe at her back and tugged it gently. Then I was kissing an essentially naked girl.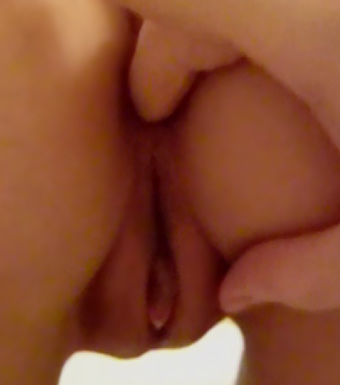 I ran my hand further down her spine, patted her bottom, and reached under to stroke her cunt. Dorabella moved her feet a little further apart, so that two fingers entered her, easily and wetly. She breathed, "Yeah. Yessss." Time passed happily, and in a while Dorabella said "Yesss" again, but higher in pitch.
Eventually I broke the kiss and reluctantly took my hand away. Dorabella looked at me almost accusingly. Almost pouting. I kissed her again and said, "I've got to deal with Raylene."
She nodded, also reluctantly. I put my arm round her waist so I could propel her in front of me, and said, "Go on in." 
She stopped when she saw Raylene displaying herself at the desk. I heard her whisper, awed, "Holy fuck."
I whispered in Dorabella's ear, "Greet your sister." 
Dorabella obeyed without hesitation, or, perhaps, noticing that she was doing so. "Hi Raylene. I'm here to watch what this monster you've, um, attached yourself to, does to you. And, I guess, make sure you're okay, little sister." 
It crossed my mind that she should have to squeal for forgiveness, about calling me "monster". That would keep the tone playful enough, and seconds after I'd finished we'd be fucking. But that could wait until tomorrow. In the meantime I said, "You can speak, Raylene." 
Raylene kept the tone brave. And playful. She was a clever girl. "Hi Bellie. Take a seat. I don't think I'll have much use for a chair. Not today."