We'd been stuck there four months since the last post in this story, Raylene and I. I lay on my back in Raylene's bed, with a stack of pillows under my head and shoulders, while was on her knees further down the bed, hands behind her back, her head bobbing industriously. She looked intent, when I glimpsed her face. Serious-minded.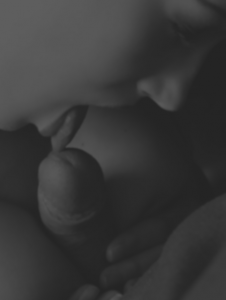 I was happy to be there, being served, my orgasm building but in no hurry. But Raylene's sister Dorabella ("Bellie") had promised to make us cups of tea, which would give her and maybe her friend Lynette an excuse to come into the room. Raylene would probably enjoy that, but I wouldn't.
That set me an orgasm deadline. I should come before the Tea Invasion, if I wanted to come at all. That meant there was no way I'd come in Raylene's mouth in the time it takes to make a cup of tea, especially now that the deadline was there to distract me.
So I pulled Raylene off by her hair and manhandled her onto her back roughly where I'd been lying, so she could rest her tied hands in the pile of pillows. I slapped her outer thigh to show that I wasn't really a considerate man, and growled, "Legs up, Raylene. I want your heels pointing at the ceiling."
Raylene was wriggling to get her tied hands comfortable. She frowned. "Um…  You mean … You mean my toes? Sir?"
"No. Heels. Get your legs straight up. You'll have to stretch a bit. This is what razor strops are for, so I'd suggest you try hard." 
Raylene raised her legs, knees as straight as she could hold them, trying to comply. She lifted her ass a little way above the sheet. I think her heels were higher than her toes. I smiled, unreasonably pleased with her. "Good girl. Now put your feet about a metre apart."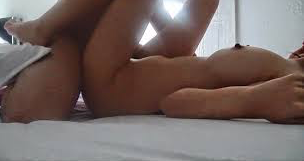 Raylene said, "I don't think I can hold this for – " But I put my hand on her mouth, and my body between her thighs. Her ass dropped back to the bed under my weight, but she kept her legs up. She was breathing hard. I lined my cock against her beautiful slippery cunt, and leaned forward. 
I took my hand away, and Raylene said, "onnhh, yeah," as I filled her. When I was buried in her all the way, she looked up at me, searching for something in my face. Usually I'd smile and say something affectionate at that moment, but this wasn't going to be that kind of fuck.
I dropped my head, bit her jawline just below her ear, and lost myself in her hair, paying her face no further attention. I put my hands under her to cup her ass – still blazing heat from the razor strop – and hold her tight against me while I fucked her.
She still held her legs up while I claimed her and re-claimed her as hard and roughly as I could, chasing my orgasm down. At some stage I discovered that her bed, which had seemed sturdy, rocked if you were violent enough. The headboard started bashing the wall in a loud and unmistakeable rhythm. 
I sped up, and Raylene wailed painfully loud in my ear. I hadn't expected her to come, but clearly she was seconds away. I couldn't decipher what she was wailing, except that it included the word "sir".
So the neighbours weren't going to learn my name, just a title. Raylene's sexual screaming set them some puzzles.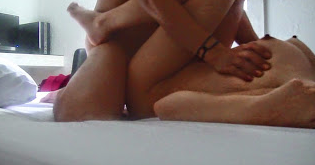 A few seconds later I breathed, "yeah." It was at once encouragement and permission for her to come again, and warning that I was about to do the same. Coming in Raylene was like falling, in slow, sweet comfort in a warm, wet and weightless world.
She brought her legs down, without permission, and rested her feet on my arse, enfolding me. Her face contorted and she moved her head back as far she could. And she screamed, uninhibitedly. "Sir" again. I liked it.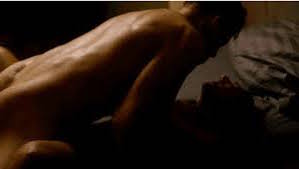 For a time, in the afterwards, we did nothing, had nothing to say. Eventually I kissed her neck and let her take all of my weight while we puffed and panted together. She caressed me with her thighs. Her hands were still tied, but she made no complaint about that. I left it.
Someone said, "Hmm." It wasn't either of us. The door edged open.