I'd just accused Lynette, come up the stairs unshowered to watch me cane Raylene, of smelling good. I'd had a girlfriend not so long before, who'd have been horrified by that. I guess she'd taken "female hygiene" advertising seriously. Which was why I'd decided not to risk it with Lynette. And then done just that. So when Lynette squirmed out of our embrace, I knew I'd fucked it up.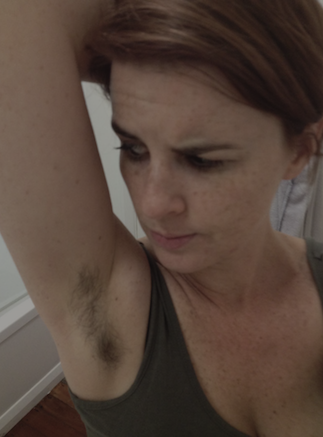 She pulled a face and sniffed an armpit. One of hers, I mean. She pulled a worse face. "I smell like the women's changing room at the gym."  
So I said, "That's what I meant! You smell great!"
"Hmmmmm. Well, you're the weirdo. I knew that." 
"No, really, you do. I mean, smell great. I can't comment on the women's changing rooms. And you look great. Hot. In a, um, dignified, poised way. Umf." The 'umf' was me deciding to shut up and take her back into an embrace.
Her belly pressed against my cock again. She put her hands back on my ass so I did the same for hers. I liked her ass, small but muscled. Yeah. I pressed my fingers, hard, into those muscles. She made a satisfied sound. So I said, "Come. Back. Here." As though it was an order. 
She took her hands off my ass for a second and pushed me. Then she came back, and my ass resumed being grabbed. "I was already here. That was like telling a sleeping dog to play dead. And Raylene's the one who obeys orders. I don't. Try to give me a real order and you'd be sorry. I mean it." 
I nodded. "Yeah. That wasn't an order." 
Lynette decided to let that pass for agreement, though she knew what I'd conceded and what I hadn't.
We were playing, showing off to each other that we could both give and interpret ambiguous signals. As ambiguous as you can be while holding each other's asses.
It's not everyone's favourite form of flirtation, but we seemed to be enjoying it. And we were liking each other for that.
She said, "All right. For now. Ummm… You're the gate-keeper, aren't you?"
"The what? Oh. You mean, I control access to Raylene?" 
"Yeah. I want to fuck Raylene. Well, you know why. She's lovely. She's barking mad, if you ask me, I mean this thing she's doing with you. But she's seriously fucking hot. " I nodded. That was true. She said, "Course I want her."
"And you think -"
"You're the gate-keeper. I don't get to fuck Raylene unless you give her permission. Actually, you could tell her to, even if she didn't want to fuck me. And she would, wouldn't she?" She didn't mean she wanted me to do that. She was just pointing out what a bastard I was.