2
The door opened. Ellie looked up at him. He was taller than she'd expected, blond, with a ridiculously fashionable haircut. He wore jeans and a good jacket. He'd sent pictures, but you never know until you actually meet someone. He smelled of walnuts, she thought. Walnuts and oiled wood.
He smiled at her, and her heart lifted. She'd been afraid of what he'd think of her. He said, as if he were surprised, "God, Ellie, you're beautiful! And you've done as you're told. You're lovely. And good."
She gaped at him, embarrassed, happy. She had nothing to say back. She couldn't think.
He reached for her head. Ellie opened her mouth, expectantly, but he grabbed a handful of her hair. "Stand," he said. She fumbled, trying to obey but clumsy, and he eventually pulled her up himself. His eyes were still kind, but there was something about his mouth. He said, "Put your hands by your sides. Now, please."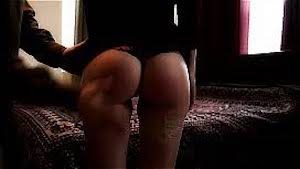 She obeyed, frowning. Should she obey? Then she felt his hand land on her bottom.
The skin buzzed where he'd made contact. She'd let a man smack her. Now he smiled. "When I tell you to do something …"
"I do it, quickly?"
He smacked her again. Her bottom … No, her cunt felt it. She'd imagined this many times, using both hands as she thought of it, till she came. The reality was as confusing and as arousing as she'd hoped. She felt the sex of it, the heat, the need it brought her, deep inside.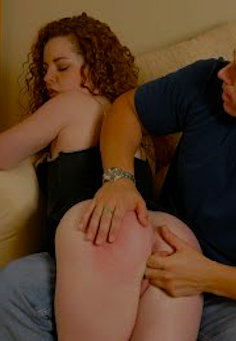 His arms held her. He was warm. He stroked her, where he'd spanked. Then he let his finger slip between her buttocks, to stroke her cunt gently. Ellie gasped, and straightened, still in his arms. He was testing how wet she was, she thought. Then: No, he knows that I'm wet.
He's showing me he isn't going to ask for my permission to touch me. She leant her head against his shirt, kissed his chest.
He said, "That's right. Obedience means obeying quickly. Which reminds me: are you expecting your safety call?"
Oh, shit! He'd stressed it, but she'd already decided he was ok."No. I–No, I forgot."
He nodded, as if resigned. He let her go—she wanted his body back—and sat on the couch.
He looked up, and indicated his knees. "Ellie, I'm glad you trust me, but… First, I told you to have a safety call. You agreed that you do as you're told. That's how this works. Second, not having one is stupid and irresponsible. Come here."
Ellie came to him. She looked at him, not sure whether she was afraid or if she was teasing him. "You're going to spank me for trusting you?"