I'd just threatened to spank Emilia for misbehaviour. And Emilia had agreed that I should. So I said, "But I'd still be doing it for your own good, Emma."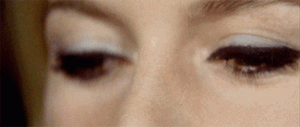 That sounded stupid to me, but I thought that if she'd liked my first line, she might like that too. Or it might be ridiculous. Emilia considered and then nodded, gazing at the carpet. then she looked up at me. That "dropping her eyes" thing: was that calculated?
I had no idea. She said, "Yes, I know. It would be." I wondered if she believed it. We'd been maudlinly sincere together so often that what we told each other was usually true. "So yes, you should."
I believed it, myself. I said, "Ah…"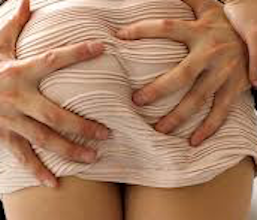 But more importantly I squeezed her ass that little bit harder. And patted her. And then smacked her. She put her arms round me, and our bodies pressed together. Hard cock to her belly. I lifted her t-shirt at the back, and let her feel the cold morning's air before I smacked her again. A little harder, my hand on bare skin. Her mouth opened, but she wasn't looking at me. I smacked her again. This time it was audible.
A little too audible; there were people sleeping in every room in the house. 
So here was an armful of warm girl, and a most complaisant and consenting girl she was turning out to be. I suppose I was something of a surprise to her too. We'd never talked about this.
But there was nothing we could do before other guests started waking up. Except for removing my erection from Emilia's belly. So I kissed her with meaning, desire and emphasis and then – since it had to be done – released her. "We're going to talk, aren't we?"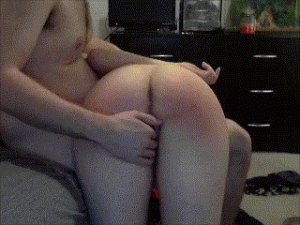 Emilia agreed that we'd talk. In fact I should come to her place on Wednesday and she'd give me dinner. And then we'd… talk. I think that neither of us expected that we'd say many words during that… talk. But in the meantime we gathered the party detritus, taking glasses and plates back to the kitchen.
I set myself a sexless word puzzle. How to turn COCK to SOFT? COCK, CORK, um, WORK, WORT, SORT, SOFT. By the time I'd worked that out the front of my dressing gown was flat enough to be socially acceptable. After pushing herself back into another hug, and accepting one last squeeze, Emilia went back to the room she'd slept in, to wake her friend. We had no more time. People were stirring.