The previous episode is here.
Maddie said nothing. She could enjoy whatever was to come, but what happened or how it happened was not her concern. I put lube, more that seemed possible, on my condommed cock, then put my hands on her ass and opened her a little. The moment she knew she was to be taken anally was the moment my cock pressed against her little ring.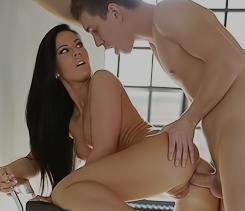 She said, "O", teeth still holding the cane. I pushed forward into her, slowly but in one long movement. Maddie didn't breathe. I stopped, then, my belly tight against her buttocks, my cock throbbing deep inside her. My body was shaking with the pleasure of it. 
I'd intended to fuck her hard and fast, refusing her permission to come, but something in her acquiescence called to me.
She was submitting deeply. She was being a good girl. So I fucked her ass hard, but less brutally than I'd planned. Maddie rolled her hips with my movements, holding my cock tight, keeping me deep inside her.
Her breath sped up, after we'd rocked together for some time, and so I sped up too, pumping her hard and feeling my orgasm collecting, building, at the base of my spine.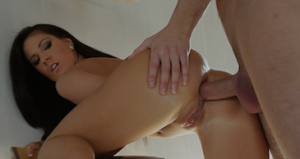 I reached under her to stroke her cunt, and we moved hard, bodies joined, until she came, squealing and yowling like a fucked cat.
I said, "good girl, good girl," over and over, while she came. It was the first time I'd praised her since this morning, though she'd worked all day to obey and please me.
Later I dragged out the spare matters from the sick room, and we piled up sheets and [illows and lay together, a girl and her master.
Companionably. 
The next episode is here.