I don't mean that last cane stroke didn't hurt. It burned like fire. I felt like I was being branded. It was just that… that felt right. There was something sweet there. Something deeply sexual, like it was below my human brain. Something atavistic, like an animal. An animal in love and lust. 
The next two strokes climbed up my thighs. "Nine, Sir. Ten, Sir," counted Lucy.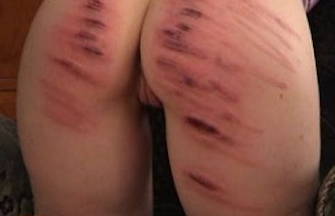 I squealed and sobbed again, continuously, no longer trying to control it. But now the sobs celebrated what was happening as much as they protested it. The tenth stroke burned just under the crease of my bottom. I dreaded the moment the cane would land directly of my crease. I knew it would be too much for me.
And I yearned for it, for exactly the same reason.
But I'm going to have to cut here, though. This has been published and my publishers don't want free competition from me. You can read it here. 
T