Note
Last week's episode, and a quick summary of events to date, can be read here. 
Maddie kisses Lucy!
Lucy stood behind me while I took the key from my blazer pocket and opened the little door in the back of the school library. Luckily it was a nice day, and there wasn't a single person in amongst the books. So I didn't have to come up with any stories. About why we were there. 
I pushed the door open and stood back, waving Lucy in. She hesitated, and then turned to face me, so she could step sideways into the little room beyond the library. Her smile flickered like a streetsign in an old film, not quite on and not quite off. I followed her quickly and locked the door behind us.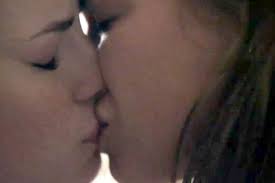 It helped that Lucy was a bit shorter than me. I'd always been the short one, when I got kissed, especially when it was Sir, but I knew what to do. So I stepped to press my body against Lucy's.
She was so soft, and her breasts were so wonderful: she made me think of motherhood and ripe fruit. There was something so hot about her.
Not just sexy but somehow life-giving. She opened her mouth and licked her lower lip, so I kissed her. It had to be. 
I felt her slide her hands up my sides to hold me by my shoulders. My head felt like it was spinning. Everything was too wonderful and too heady to be real, and yet it was happening. I slid my hands down from her shoulders, and lifted her little skirt at the back. I put my hands on her bottom, through her panties. Lucy leaned into me at that, her head snuggling onto the side of my left breast. 
I smacked her bottom, not hard, not as hard as I wanted to. But I wanted to let her know that I could smack her bottom, from now on. If she took it now, she'd take many more. From now on. I said, "I've never spanked a girl before." 
Lucy looked at me. "I've seen you get the cane. Naked. You didn't seem to mind. Doesn't it hurt?" 
"Kind of. It's hard to say. It hurts, but when it's the right person, and you want them, it feels like… Oh, it feels like a sexy, loving touch. And it still hurts, but I kind of like that too. Anyway, you're going to find out for yourself this evening, after school."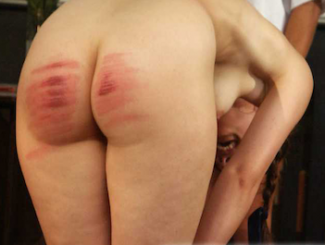 Lucy looked sulky. I loved what that did to her mouth. It turned down at both sides, but didn't thin the lips. I kissed her again, because I couldn't stop myself, then drew back. She said, "You did that. That's your fault. I'm going to strip naked, and get twelve strokes across my bottom." 
"Sir's going to love it. Caning you, I mean, darling. You're so beautiful, little Lucy."
"Nnnnh." She snuggled closer into my breast. I held her tight. She was so precious.
"I bet he's going to take his time. And he won't be too hard on you. Because you're so beautiful, and you don't spoil beauty. And I'm going to love watching you get the cane. And… like I said, you're going to get a surprise. Yes, it'll hurt, but" – I slid my hand under her underpants and stroked her bare bottom – "you'll find out. You'll be so hot afterwards. I mean, the good hot."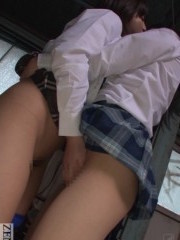 Something happened. Lucy got heavier in my arms. I think her knees gave for a second. So we pressed together, and I pulled her panties down to her thighs, at the back, and rubbed and patted her bottom. She felt so wonderful. I learned, I think, why Sir liked my ass so much. I wondered if I dared stroke her pussy next. 
Lucy set her feet a little further apart. It was as if she'd heard me. She kissed the side of my breast. Her mouth was so soft.
She was so sweet.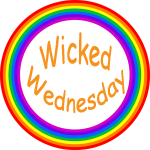 The next episode is here.