The previous episode in this story in here.
Monica said, "Janie, I'm going to a party tomorrow. I'm bringing you."
Janie blinked. "Uh?" 
"It's a party you're dressed for, just as you are."
Janie nodded. To see how the words felt, she said, "Yes, Mistress." They felt alien.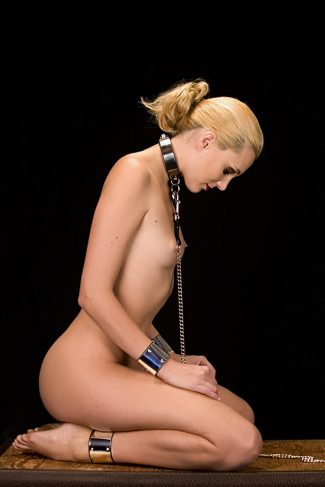 Monica didn't react. "When I told you to to undress, Janie, did you obey immediately?"
Her heart sank. "No, Mistress."
"Did your Master instruct you that you were to obey me as if I were he?"
She knew this woman was going to punish her. She so hoped this woman, her temporary Mistress, wouldn't punish her. But it would do no good to beg.
"Yes, Mistress, he did. In the moment I forgot. I'm very sorry, Mistress."
"Indeed. You knew better. I don't want you embarrassing me with behaviour like that tomorrow. What would Paul do?"
Janie thought. She'd disobeyed, though only briefly. "Cane me, Mistress. Six strokes."
"Appropriate. I'll use the leather paddle. But ten strokes."
Silence stretched on. Then Janie remembered: "Thank you, Mistress!" She sounded squeaky.
"Just in time, Janie. Bring the trestle to the middle of the room."
"Yes, Mistress." Janie hurried.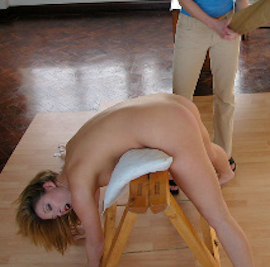 Then there were words, the beginning of a ritual. She'd never expected to hear a woman speak them to her "Bend over, Janie."
Janie turned to face the trestle. She placed her feet apart, so they touched the trestle's back legs, exposing herself to her punisher. There were grips, low on the legs on the other side. She lowered the upper half of her body, and held on tight. 
"I'm not going to call you a good girl for obeying me, Janie. That's a given from you, the bare minimum." The paddle cracked across her buttocks, and she cried out. Paul would have said something loving, to help her get through her punishment. And she always knew she'd be given an orgasm afterwards,  
But the paddle landed again. It was so hard and hot, nearly as bad as a hard stroke from Paul's cane. Janie cried out again, abandoning herself to punishment, holding on tight. "You will learn to obey me, Janie." 
On the third stroke, which landed low and hard, Janie began to sob. There were tears running from her eyes, down and into her eyebrows. "Without expecting praise or reward." 
There was a pause. Janie knew Mistress would be watching the colour rise and deepen on her bottom. Enjoying it, like a connoisseur.
Janie wondered if she were a connoisseur of being punished. Paul was warm and loving, even when he hurt her. This was colder, and more impersonal. Still – she hated to admit it – there was something hot in that.
Then the paddle cracked down again, loud, and burning like fire. "If I have to teach you this lesson again, Janie, you'll get ten with the cane as well."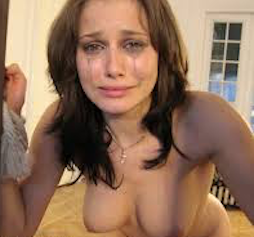 Monica stopped lecturing now and calmly, unhurriedly, completed Janie's paddling. Janie sobbed throughout, lost in pain and humiliation. 
At last it was over, and Mistress commanded her to stand up. Janie struggled up, weeping, her bottom sore and, somehow, heavy. Monica held the paddle to her lips. Janie knew what she had to do. She sniffed, wishing she dared to wipe her eyes. She kissed it.