Seamus waited politely while Asuka controlled herself and took her place and position again. When she put had her palms flat to the floor and presented herself, silently waiting, he said, "Do that again, and I'll give you get two strokes extra." Then he lashed her again, leaving a second pronounced, slightly raised stripe across her plump thighs. He'd kissed that area so often before. He would again tonight.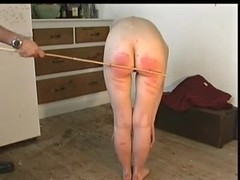 He didn't let her take a break after the sixth stroke, but continued, aiming the cane at a lower spot on the backs of her legs. It landed, loudly, and stung her fiercely. His aim was already getting better. Then he worked his way up again, until she had twelve strokes standing out boldly on trembling, luscious skin.
He let her wait after the twelfth stroke, while she stayed down, hands still to the floor, her body quivering a little, not knowing whether her caning was over. At last he broke her tension, touching her thigh lightly with the cane. "You're done, for now."
She still held her position. Perhaps she wanted his cock just then, and felt this was a good position for receiving it. But she looked up at him, head still between her knees and said, "Oh, sensei. Thank you, sensei, for my lesson. I will never disrespect you again. Never again."
Seamus smiled. He was certain that what she'd just said was not true. He expected that they'd started a cycle this night, in which Asuka would make sure, at regular intervals, that she needed to be punished again. Something in that sharp, sexual pain had pleased her very much, and there'd been an intense kind of closeness between them, each of them focused on the movements and sounds and probably smells of the other. They'd both want that again.
"Sensei? I would like it very much if you … If you wanted to fuck me now. Right where I am. Please?"
But he only said, "Good. I'm pleased to hear it, Asuka-chan. I promised you twenty, you remember? You've still got eight strokes to go. But you can stand up now."