Seamus sighed. This, he thought, is weird. He'd found that he enjoyed disciplining girls. Chiaki had taught him that. She'd begged him to assume control of her, and when he'd complied it had been overpoweringly erotic.
He didn't think he was a sadist, because he didn't want to hurt her. Or any girl. He wanted to give her hurt, for her pleasure, and to give her guidance, so she could relax for a while and let him lead, confident that he'd be doing it for her. 
So the thought of Yua, in the classroom's storeroom, waiting for him to come and finish her caning, was a turn-on. Of course it was. 
Also, he liked fucking girls, or young women. And Yua had signalled in every possible way, and some he'd never have thought of himself, that she wanted him to fuck her. That, surely, he argued with himself, was a good thing. And so it was odd that he was determined that she wasn't going to have him. 
He wondered about his motives. If he was a stickler for morality, he wouldn't be living with Chiaki. Or tolerate her living with him. So was his determination without any moral basis? What if he simply wanted to disappoint her? Because he felt she was spoiled.
"Ah well," he said aloud. He stood up and went to the storeroom, where temptation, intelligent, beautiful and ruthless, awaited.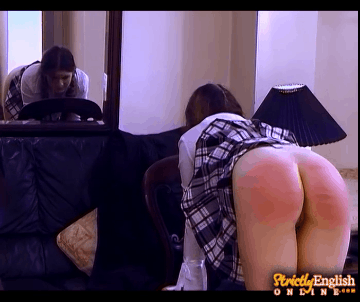 Yua had prepared for his arrival, he found. She had removed her panties, which he'd taken halfway down her thighs, completely. They lay on the desk, on top of her school skirt, also removed. Yua was bent over that desk, his cane lying at her side. Her perfect little ass was bare raised, her breasts and face pressed down on to the desk's hard wood.
Her thighs were parted, so he could consider the respective pleasures and potentials offered by her pussy and her tight little bud.
He said, "Yua, I…" He shook his head. He could see the side of her face. She had smiled. He said, "You want me to cane you and then fuck you, don't you?"
"Hai, Sensei! Please." She arched her bottom up just a little more. 
"Would you like it if I just caned you and didn't fuck you?" 
The smirk was gone. "Oh no. That wouldn't be nearly as good. That would be bad." 
He took the cane from the desk then, and stood to her side. "Then that, my girl, is how it's going to be."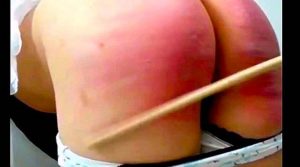 And he swung the cane, hard. She knew that he was no longer fooled by the performance she'd made the first time he'd caned her. So when she yelped, surprised and stung, he took it as a compliment. And swung the cane again, aiming at the softer flesh of her lower buttocks.
She yowled, and her white socks left the floor, kicking in pain. She said, "You should do this. Beat me all the time when you fuck me, sensei."
Seamus gave her four more strokes. She swore at each one, and offered to fuck him, and suck his cock. But each stroke branded her beautiful bottom, and he said nothing. But after the sixth stroke, Seamus said, "Get up, Yua." 
"Hai, Sensei!" She raised herself from the desk using her hands. She turned to face him, her legs crossed, her pussy lightly, blackly furred, under the edge of her shirt. She said, "Would you like something, Sensei?" 
Seamus knew that they both knew what he'd like. He said, "Yua, you're not wearing a bra, are you?"
She shook her head, wide-eyed. "Oh no, Sensei."
"That's a breach of school rules, and you know it. Take off that shirt."