Seamus found Yua waiting for him in the storeroom. She was on her knees, her mouth prettily pursed, slightly open. She'd lowered her panties, without being ordered, so they gathered just below her bottom.
Her pussy, just above the panties, was prettily-furred, and trimmed. She was used to showing it off, and expected admiration.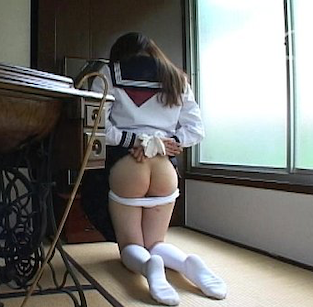 She knows how charming she looks, he thought. It was not an offer to be refused lightly. Obviously it had worked for at least some of the other male teachers. He wondered how she distracted the women.
"No, Yua. Get up on your feet. Take your panties down to your knees, and bend over."  She obeyed, the skirt rising as she bent, to show the three stripes he'd already given her.
He admired those three stripes, and the prettiness of her bottom and thighs in that position. She looked beautifully submissive. She really was very fuckable, thought Seamus, and shook his head: that was not a thought to have. She was a little plumper than the slender Asuka, though in a very desirable, delicious way. But he only said, "And grab your ankles. Don't let go."
"Hai, O'Grady-sama."
He smiled. She'd promoted him to the highest title of respect. But he tapped the cane against her bare bottom, and then he swung it, medium hard. She knew there was no point in theatrics, so she kept still, and silent, while a fourth stripe joined the three he'd already delivered, blooming red on her bare skin.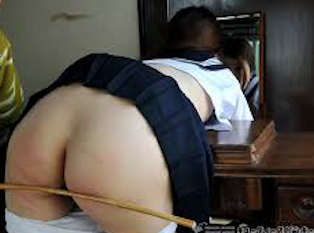 "Aaah. Ah. Thank you, O'Grady-sama." He hadn't asked her to thank him. Obviously she was no stranger to discipline. He considered asking her how he compared to the other teachers, men and women, who had already had the trouble, or pleasure, of having to discipline her.
How many people on the staff had made her adopt this position, and used a cane or strap across that immensely feminine and charming flesh? He wondered, but he simply lifted the cane and swung again, the stroke horizontal and harder than the others.
That hurt her, but his only clue that she had been stung was the brief pause before she took another breath. Her wailing, weeping performance in front of the class had been exactly that: theatre.
He gave her the sixth stroke, making it lower on her thighs so that the stripe could sometimes be visible when she walked. If she wanted it to be.He expected that she'd walk in a way that swung her skirt to reveal that stripe. She was not a feminist, he thought, but she knew how to do and to get what she wanted.
He put the cane on a filing cabinet. "Yua, you're done. Do your homework, girl, or you'll be here again. I won't go so easily on you, a second time. You can get up now, and go to your next class. Don't forget to tell your teacher exactly why you were late."
Yua stood, and rubbed her bottom with her hands. Then, before he had a chance to move, she embraced him and made to kiss him. He turned his face away, and was kissed on his cheek. But her breasts and thighs pressed against him, and her belly was touching the hardness of his cock. He couldn't help bringing his hands down to hold her bottom, still bare and heated from her caning. He ran his fingers over her new set of stripes. They'd raised themselves into welts. She was so soft…