But the next day one of his students, a girl called Yua, had again failed to do her homework. She stood beside her desk to tell him that she'd made a parcel of it, and on the bus one man had bumped her and when she dropped her homework another man, a black man, had stolen it and run from the bus. She was a pretty girl, a little older than Asuka, maybe nineteen, and she wasn't stupid. But she'd clearly decided she could coast through school, and that Seamus was the teacher most likely to accept no work at all.
Seamus looked at her. It was known that he didn't cane his students. He told her to come to the front of the class, carrying her chair. Yua did so, suspicious but not too alarmed. She didn't expect him to punish her.
But he said, "Yua, I've had enough stupid excuses from you." He paused, and spoke the truth. "It's not just that you're lazy and not doing your work. It's that your excuses are so stupid. It's insulting."
He took out Mr Amida's cane, and her gasp was lost in a collective in-take of breath from the entire class. She said, "Oh." Then, when she'd recovered from her surprise she put her hands together and crouched in front of him. "Sir. O'Grady-Sensei! I'm so sorry. I'll do extra work. Please don't punish me!"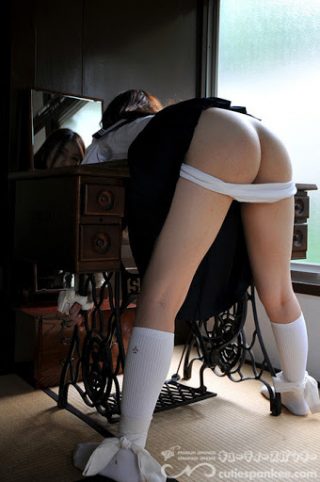 He considered asking her to say that in English, but he knew she couldn't, simple though it was. "Yua, turn your chair so the back faces the class. Then bend over the back, head right down. Put your hands on the further edge of the seat, and don't move until I say you can."
She snuffled, tears already flowing, and obeyed. Yua was a woman, not a girl, and if Seamus had stopped to admire her, he'd have found her an attractive sight displayed in that position.
But he faced the class instead, and held up the cane.
"Many of you expected that I wouldn't need to use this. I thought so too. But it's in use, in my classes, from now on. For that you can blame this girl."
He lined up Mr Amida's cane on the lower slopes of Yua's uniform, trying not to admire her soft, bare thighs, and delivered a stroke across her bottom, close to the most rounded area. Just that single evening with Asuka had improved his aim. Yua yelped, but held her position. He was caning over her skirt, so he'd have to imagine the stripe forming.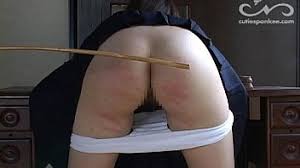 Seamus made the next stroke harder, and Yua began to wail, her face a mask of sorrow. Seamus glared at the class then. If she was going to be theatrical, then so would he be. They were utterly silent, watching Yua intently. No one seemed to feel much sympathy. She really should have come up with better excuses.
He gave the girl one more stroke, this one just below the uniform hem, on pantied, rounded skin, just above her thighs. There was a murmur from the class. They could see that stripe rising and reddening as they watched. It obviously hurt Yua, but otherwise it made very little difference to her. She was already wailing, and she had nothing more to give.
Seamus reached for the girl's ear and pulled her about halfway upright. He snapped, "Be quiet now, Yua, or I'll give you the same again." Her wails stopped as if she'd turned off a tap. When she stood upright the three stripes disappeared. He considered making her raise the skirt, but decided against it.This wasn't going to turn into something sexual. He hoped.
"Yua, you're a silly girl. You're to go and stand in the corner there. Nose to the corner, hands on head for the rest of this lesson. When class is dismissed, you can come and tell me you're sorry."
She looked at him, hands on head, for one last time before facing the wall. She was smiling. As if she'd done something clever. As if triumphantly. Then her mouth pursed into a kiss, and Seamus understood that he was wrong. This was about sex. Very much so.