I met Maddie's eyes. She was holding Jennifer's hands tight, so she couldn't get up. Jennifer was over my desk, face and upper body pressing onto the wood and leather of my desk, her bottom arched up and her legs splayed, feet about a metre apart. There is probably no pose or position that is more inviting, and exposed.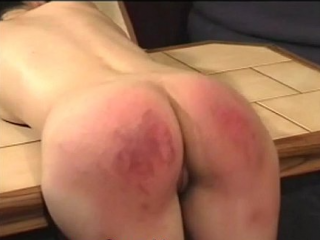 Maddie looked down at Jennifer's naked body, and smiled at me. Poor Jennifer was waiting in suspense for her slippering to begin. The arch of her back, presenting her buttocks and pussy at me, was intensely sexy and beautiful. Maddie thought that Jennifer knew exactly how enticing she was, just then. I thought that Maddie was probably right.
I'd built up the suspense as long as I could. I pressed the slipper against the undercurve of Jennifer's buttocks, to let her know where the first stroke would land. Her bottom was still a darkish red, and warm, from the hand spanking and slippering she'd received yesterday. She gave a little gasp when I raised the slipper: loss of contact could only mean that the slipper was about to come back, fast and painfully.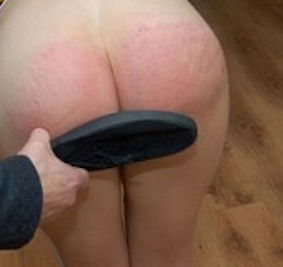 I held it poised over my shoulder, counting to ten. It didn't matter that I admired Jennifer, it didn't matter that I was becoming more than fond of her. She'd been told to ask for a merciless, hard slippering, and she'd done as she was told. She was entitled to what she'd requested.
Most girls, when told to ask for no mercy, found it necessary to obey but they also found it scary and humiliating.
Jennifer had only sounded sincere. Her mind felt she deserved it. Her body, and specifically her pussy, wanted it.
So I swept my arm down and landed the slipper hard and low across both her terracotta-red, sweetly rounded cheeks. The smack resounded, rubber against girl, as if someone had banged a leather-bound Complete Shakespeare on an oak table.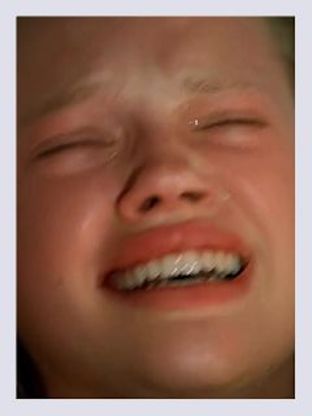 Jennifer took a second to react, then her head shot up and turned frantically from side to side, her hair flailing. Maddie's hands, hauling Jennifer's outstretched arms forward and down, prevented any other movement. Jennifer's mouth opened but she fought back the scream, emitting a low, agonised hiss.
I leaned down and kissed her shoulder, and she calmed a little, though the pain of that first spank, on already-slippered skin, must still be fresh and intense.
I whispered, "Shhh, Jennifer. Even when it hurts, you know you look lovely. And we both secretly know it feels wonderful. And would you like to know a secret?" 
"Yes? Sir?" 
"Right now, Maddie is envying you."