I'm still travelling. I just had breakfast in the halls of one of the colleges of Oxford. The river I'm beside at the moment is the Thames, which is a rather gentler river while it's up in Oxford.
I'd like to take a girl punting on the river, but she's not having any of that. It could be the way I emphasise the word and waggle my eyebrows when I say, "I want to punt you." 
That's probably it.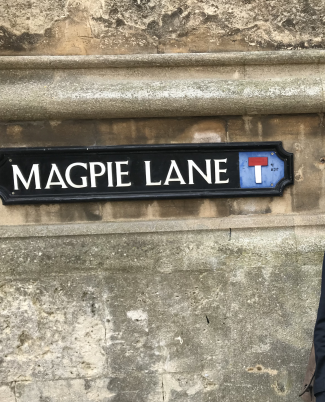 Here's a pic, by the way, of the lane in Oxford that was in Medieval Times called "Gropecunt Lane". Sadly it's been renamed into the more decorous "Magpie Lane." 
I had a half-arsed theory that maybe "magpie" was a Medieval way of referring to sex workers, so that the new name isn't quite as decorous as people think. My reasoning, such as it is, was that the "mag" in magpie was a reference to the character Magdalene, also known as "the other Mary", in the New Testament.
I was right about that, but my theory went on to speculate that since in Medieval times Mary or Magdalene was thought to be a prostitute, then maybe the word "magpie" was slang for a sex worker. So that the name "Magpie Lane" is still, in a sense about groping cunts. 
However, there doesn't seem to be any example of "magpies" ever having been a slang term for sex workers, so my brilliant theory seems to be utter crap. Oh well. 
Anyway, I want to apologise for the relative lack of posts on this blog lately. I seem to be producing only one or two posts a week, and I'd hoped to keep up my usual rate of four a week while I was travelling. But I'm in England, at the moment, which isn't my usual home, and I've got a girl with me who, even if she doesn't want to be punted on a cold river with plenty of passers-by, does require a fair bit of maintenance and general looking after. And that's fun to provide, so I'm busy at the moment. 
I'll be alone again, on Monday evening, and I'll be on a night bus or train to Liverpool. I might write something then. Then I'll be in Ireland for a few days, chasing up some ancestors, but I may even get back to my usual schedule while I'm there.
I'll be in France after that, then Switzerland, Germany and Italy. Then, in the middle of May, I'll be back at home in my mountains. I'll keep you posted!