Some time after two in the morning, when I was blissfully sleeping it off, my cock feeling well-used and slightly sore, in a good way, from all the hard work I'd done, beating, eating and fucking Ojastara, I felt a hand shaking my shoulder.
Usually I wake up quickly, and pretend I was awake all the time. But this time I really needed the sleep, and I was reluctant to re-enter the waking world. But Ojastara pushed my shoulder again, and said, "More? Once more?" 
So I groaned and finally sat up. "Now I can see why that guy broke a riding crop on your arse. You are getting a dozen, hard, before you go to work. That's a promise."
"Excellent! I can't see my marks. But I like to feel they're there."
Ojastara didn't just mean that she couldn't see her own arse without a mirror. I'd discovered that evening that you could raise welts on her bottom, and admire those, but her skin didn't change colour under my hand, or my belt or any other implement. She wasn't black in the American sense, where even a faint coffee tan is called "black". She was simply black like coal is black.
I smacked her left breast, quite hard. "Glad to be of service. What do you want?" 
"Fuck me again, Master? Please?" 
I thought about it."I'd like to, little one. But there's no way I'm going to get a hard-on again until morning. Real morning. This is the middle of the night. And my recovery time."
"Please, Master?"
A master's job is to make his slavegirl happy, and keep her in that state. So I smacked her right breast. She was a big-breasted woman, and the sway was a gorgeous sight. I made a note to do that again, and then fuck her between her breasts, when I was horny again. Then I slapped her face. (I have some internal resistance to doing that, but with Ojastara I knew it would be right.) "All right. On your back. Sitting up a bit."
So she made a pile of pillows and leaned back on them. "Like this, Master? Are you going to lick me?"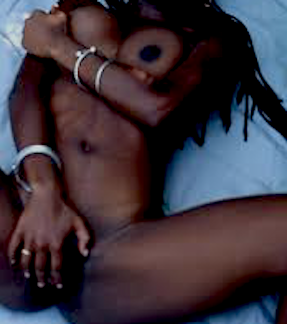 "You woke me. You're doing all the work. You're to stroke yourself until you're ready to come. And you're going to stay there, on the edge. But you're not allowed to come until I tell you."
"Yes, Master. Of course. But what are you going to do?"
"I'm going to tell you a story. While you wank. You've got fifteen seconds to come, after I've said the works, The End. If it takes you longer, then you weren't edging."
"Fifteen seconds!" She managed to sound outraged. I was the unfairest, meanest Master of them all.
"Fifteen seconds. I won't let you after fifteen seconds, and I'll find a way to really punish you. Understand?"
"Master!"
Ojastara had already begun obeying, thighs wide, fingers buried, working fast. I smiled at her, though she didn't notice. "That's a good girl. Now, once upon a time…"
[End of prologue.]