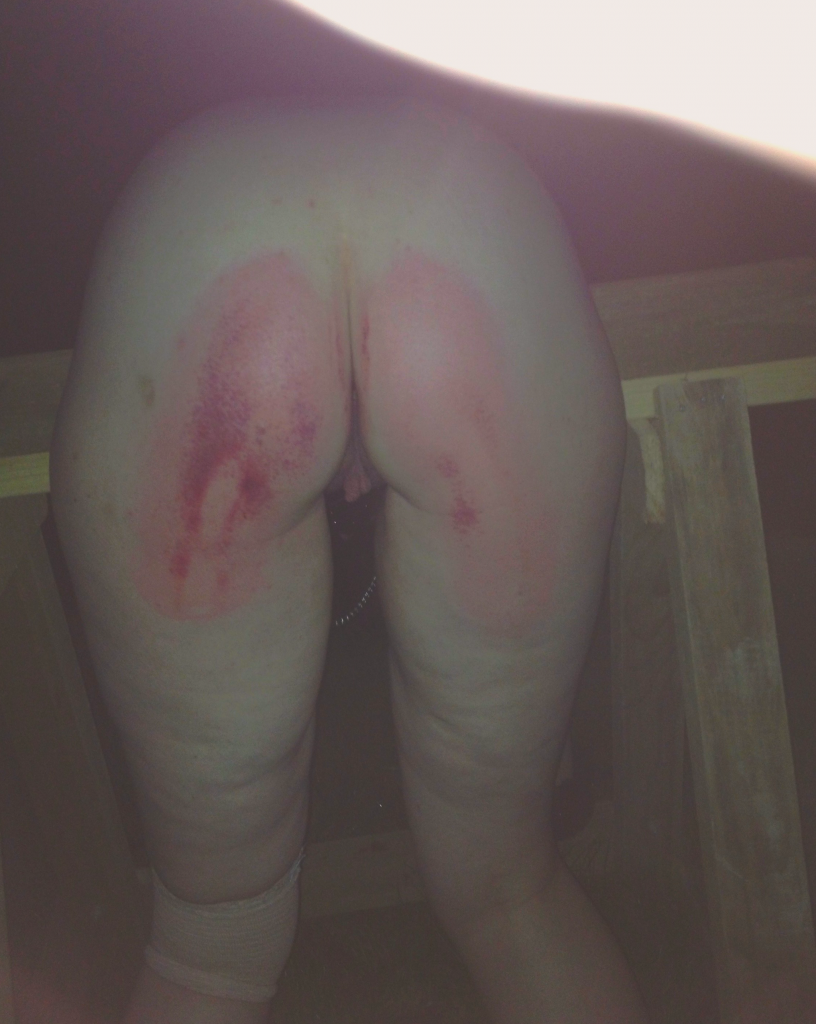 it was three in the morning. They'd spent the night fucking, but – to her surprise – he hadn't spanked her. His belt lay on the sheet beside them, as it usually did when they were in bed, and the cane hung on the wall beside the bed. Both were unused.
She thought they were going to sleep now, but he said, "Up, girl. Up!" The first time he said "up" it was as though he had a treat for her: there was mischief, and enticement, in his voice. The second time it was clearly an order. 
She murmured, "Yes, Master," and rolled out of bed, and stood up. HJe got up and put on a dressing gown. He didn't offer hers. He took her by the hand and led her out of the house. 
The night air was cool on her skin. She could feel goosebumps forming on her shoulders and breasts. She wore only her wrist and ankle cuffs, and her collar. She was grateful for the little bands of warmth they offered.
She could hear birds above, sleeping in the trees, mildly complaining at their disturbance, then deciding they were no risk and returning to silence. There were nocturnal mammals around, she knew, but they had heard humans and crept away. 
He led her down past the greenhouse, down the slopes to the bottom of the garden, a spot under the plum tree, over-looking the valley.
There was a trestle there. She'd never seen it before, or anything similar, though she knew what it was. And what it was for. He'd made it for her. 
"Bend over, little one. Legs apart, head down. And reach your arms right down." She obeyed, and attached her wrist and ankle cuffs to the snap bolts he'd put in, low on each side. She experimented a little, so she could confirm to herself that she was helpless, held fast.
He fetched from below the plum tree a wooden paddle. She hadn't seen that before either.   It looked very home-made.
He held it to her mouth, and she kissed it. Her heart was beating fast. It was hard, and it was nearly an inch thick. He'd made it, just to hurt her with it.
He took the paddle from her mouth, and stepped back. He said nothing.
Then it landed, against her lower bottom. Noise and pain overwhelmed her, and she yelped. She didn't usually cry out at the first impact, but this was too strong. She was in its control, not hers.
By the third impact she was wailing continuously. Not loud, but uncontrollably. Except by Master. He was in control of the sounds she made, how she moved and what she felt, and when.
The paddle landed, over, and over. The strokes got no harder, but each one hurt a little more, burnt more fiercely, than the one before. Now she jerked each time the paddle landed, body rocking with the impact but held fast by her cuffs. If it was cold, naked in the night air, she no longer knew it. She knew nothing but pain, and the sound of her own wailing, what Master called her pain-song. 
Eventually she became aware that the paddling had paused. Her Master said, "Thirty-six."
She'd had three dozen! Simply for his pleasure. But at least it was over.
He said, "So I think, just four more. You can count and thank me, for these last strokes."
Then the paddle again, against her lower bottom, almost reaching her cunt. "Aiieee! Uh. Uh. Oh, fuck. Thirty seven, Master. Thank you!"
"Good girl."
He concentrated on her lower bottom and upper thighs. But when she said "Forty, thank you, Master," he didn't tell her she was good.   
Instead she felt his hands holding her hips like talons, holding her as if her cuffs weren't enough. His cock slipped into her cunt, deep, then all the way out, then deep, then out. She breathed in time with his movements. It was so good. But on the fourth withdrawal, his cock didn't return. She stopped herself from protesting. That paddle was on the lawn beside her. He pushed her ass down, and she felt his cock pressing against her sphincter.
Her head dropped, helpless, as he thrust into her ass. He usually took his time when he butt-fucked her, but now he was urgent, insatiable need. She heard him grunt once, when he was all the way inside, his cock deep in her ass and his body pressed against the fierce heat of her buttocks. Then he fucked her, hard, fast, working on his own orgasm. Not hers. But soon, ruthlessly fucked, she heard herself wailing again. Not a pain song. 
Note
The halo of light above my girl's body: I'm not sure what that was. But I like it. It was a night of mysteries, and there was something deep and sacred going on. I don't know what it was, in technical terms, but to me it adds to the magic and mystery.