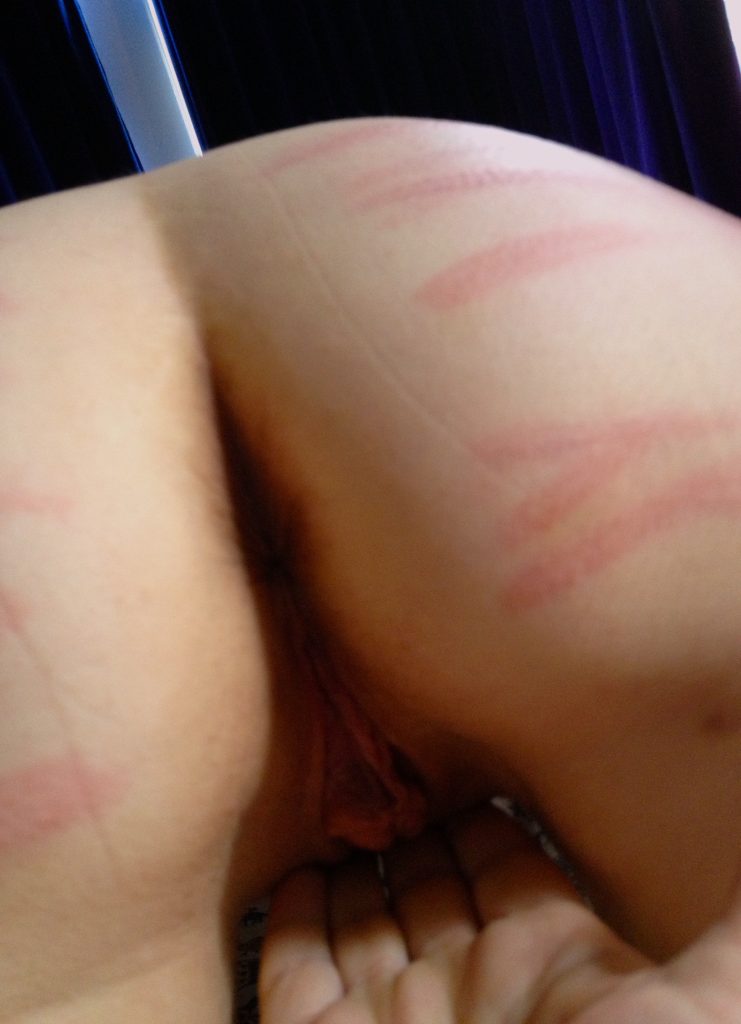 Arethusa said, Oh, Master. I'm sorry, I'm so sorry, Master. I – 
No, it's over, darling. And you were brave and good. And your – the fault's forgotten. You've paid for it, the slate's clean and you're a good girl again. I'll never mention it again. 
[I was telling the truth. I've genuinely forgotten what the fault was that led to the stripes in this picture. It would be something that I felt harmed her interests, and that I'd warned her about. And that she'd repeated anyway. It'd be laziness or carelessness, because she doesn't wilfully disobey.]
But I hate disappointing you. I feel … [She shook her head, still on all fours on our bed.]
Shhhh, love. You're a good girl. Wonderful fucking girl. You're a good girl with a sore arse, right now. But I do know how wonderful you are. I know that I love you, little one. 
[Arethusa isn't a brat. She likes to be good. The worst thing about being punished, for her, isn't the pain, which happens often enough for purely sexual reasons, but having to feel bad because she'd disappointed her master and lover.]
I know that too. And I love you, Master. But I let you down. 
Here. Relax, 'thuse. You're the world to me. And …
Ahh… Yeah, yes…
[And that's when I took this photo, left-handed. Just before I put my right thumb where any person of sense, in love with the woman on that bed and wanting her to feel good, would put their thumb. And hold her firmly and begin to stroke, and then pump. There was no more conversation for some time, and no more talk about feeling guilty. Eventually, cuddled in spoon position on the bed, we slept the rest of the afternoon away.]