I've been looking at the work of the two leading male bdsm graphic artists: Guido Crepax and Milo Manara. The other artist I'd say is really important and really good is Paula Meadows, whose work looks a little more amateurish and folksy, but it's done with real conviction. But I'll write about Paula Meadows (whose work comes out under a variety of names) in a post all to herself.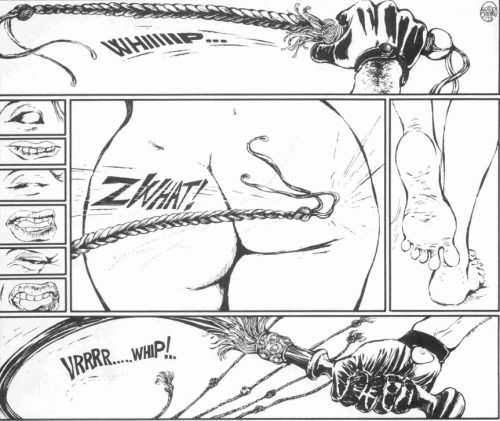 Here's a Guido Crepax page. It's a whipping scene from his comic book adaptation of Sade's Justine. Note the really interesting frame layout, and the telling use of erotic details: the eyes and mouths of Justine's tormentors, the little dance with her feet when the whip lands, the instant on the whip's landing across her bottom, and the energy of the whip and the man wielding it.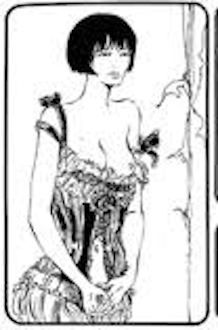 This is one of his heroine's, I think Valentina. There's something about her look that reminds me of French films from the 1960s, Jean-Luc Godard, say. 
So we get the Louise Brooks pageboy hairdo, the sullen mouth, small breasts, very skinny arms. Also, the Valentina books resemble 60s French art films  because there's a lot of casual dipping in and out of surrealism, and the plots never make a lot of sense. 
Though I'd rather read Crepax than watch a Jean-Luc Godard movie any day. The cinema of "the novelty of boredom" outstayed its welcome after about five minutes.
Took a woman to a Godard retrospective at the local Film Society few years back. Worst date evah. Not her fault. Not really mine. Godard's. What a wanker. But I digress.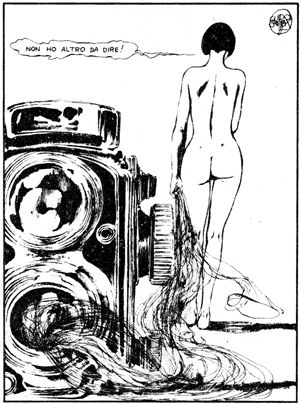 His work is very stylish, and his lines are very elegant. On the other hand, the women he draws tend to be like Vogue models, being extremely slender, sometimes bordering on emaciated. His women look beautiful, but you know that if you took one out for dinner she'd spend ages chewing one lettuce leaf and toying with the same glass of mineral water all night. So, enjoyably perverse though his female characters may be, they probably wouldn't be a fun date. 
That's a pretty shallow response to art, of course, but it is meant to be sexy. So, his work is very elegant, but a little bit cold. 
Milo Manara, on the other hand, draws women who look like sensual women who like food and fucking, and are also enjoyably perverse. If it were me, I'd prefer to go out with a Milo Manara woman. Here's a Manara post-whipping scene.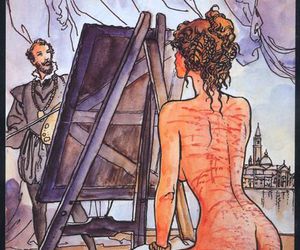 You don't get the interesting lay-out that Guido Crepax gives us. But the woman, freshly whipped and posing for her portrait with welts, has a fleshly quality, a kind of exuberant sexiness. She's slender, but not starved. Her left breast is just visible, and it seems to be in a world where the body has real three-dimensional properties like weight. 
The set-up, "You must be whipped so I can paint you", is nicely perverse.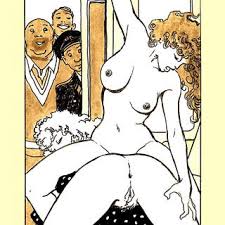 Here's a slightly silly, cartoonish, girl on girl spanking. With an audience. It's clear, which is never quite clear in a Crepax frame, that the two women are enjoying themselves, both spanker and spankee.
The woman on top, facing us while she spanks her not-very-helpless victim/lover, has breasts that would never appear in a 1960s French art film or a Guido Crepax drawing. The hair in Manara art is more Gina Lollobrigida or Sophia Loren than French chic.
It gets mussed up, and sweaty. 
Look, I think Crepax is a better artist, objectively. But here's a last Manara panel, demonstrating why I prefer his work. You get curves with your collar. And freckles!