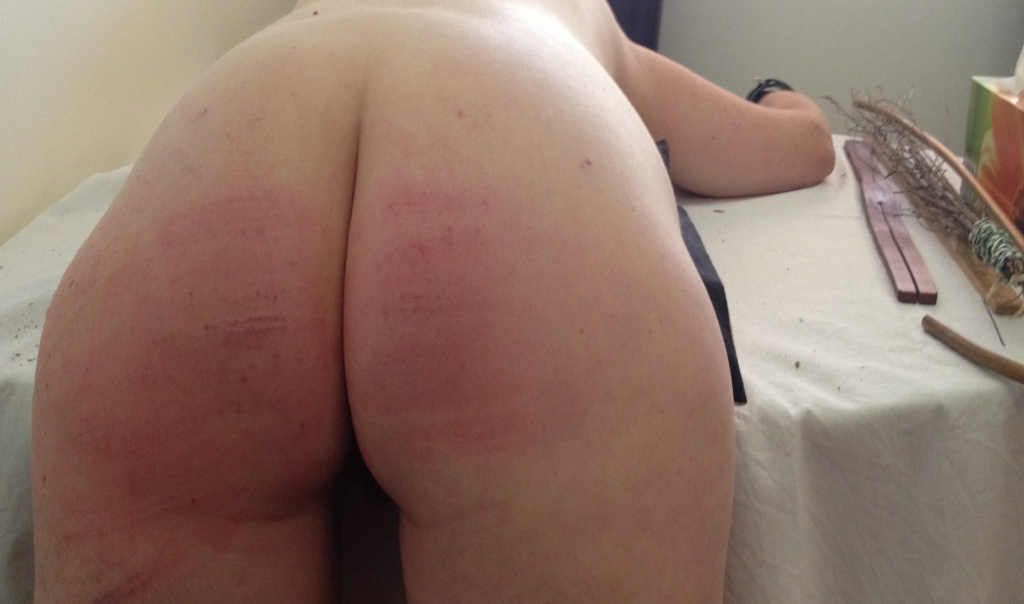 It was University again, that got Arethusa caned. There were several essays set, and Arethusa let one slide until the day before handing in. It wasn't the first time that had happened, or the second.
When she confessed it was hanging over her, I sat her down in the library and made her work on it, while I wrote the appendices as best I could. Though even they needed more specialised knowledge than I had. But the only way of getting the essay in before the cut-off time was if I did them. So we both worked until the early hours, and got the essay in with minutes to spare. 
I was concerned about why this was happening. But I was also certain that as soon as the essay was sent, and she'd slept, there was a reckoning due.
So we have this picture of Arethusa about halfway through that reckoning, and the collection of implements I used in that reckoning. And, because every loving Master should look after the messes he creates, a box of tissues.
But there were always two tracks of thought and feeling with Arethusa's punishments. She is submissive, and I'm a Dom. That means I was in charge, and responsible for making sure things went well for her, using guidance, assistance and discipline. It also meant, it'd be silly to deny, that some scenes were hot as fuck.
So in the midst of punishment I was always thinking about how hard it was reasonable to go, and what she needed to change her behaviour. But there was also simple sexual appreciation: she looked beautiful. And the more I marked her, the more beautiful she looked.
It's an odd kind intimacy if you aren't wired for it, as giver or receiver. But for us, it was an act of love and care. Her gift of submission, and mine of control and care. And then of lust and joy.