Some anti-bdsm critics argue that bdsm is essentially a cover for male on female domestic violence. There is something that looks like evidence for this perspective in the mainly US Christian sects that endorse female subservience and in which girls and women are property, passed from their father to their husband, whose orders they are supposed to obey. 
Many of those sects explicitly endorse non-consenting, or at best semi-consenting (where the woman consents to the relationship and its terms, but has little choice if she wishes to remain in the culture she was brought up in), physical violence under the name "domestic discipline". 
"Domestic discipline" is a movement, again mainly in the US, in which women, again mostly Christian, accept their male partner's right to spank them, or use harsher discipline methods involving belts or paddles. It's a more complex movement than it may seem. 
The movement includes relationships in which the woman really is consenting, and enjoying being a submissive woman under her partner's discipline. Women writing about their disciplinary experiences (which may include some pure fantasy), make it clear that they take their "discipline" as sexual and both partners enjoy it on those terms. 
In other cases it's clear that the men in these sects have used the Bible verses that insist on the subservience of women to men, and are working out their own desires on non-consenting women, who are beaten and are largely unable to escape. Those men may be driven by the desires that drive on bullies, and not necessarily by any sexual enjoyment of the beatings they hand out.
But bdsm as a culture insists on clearly stated consent, without which nothing can happen. The rhetoric of "domestic discipline" may happen to suit a couple in which the man is dominant and the woman submissive, and they have no other vocabulary to set out the desired terms of their relationship. But bdsm is a very different beast.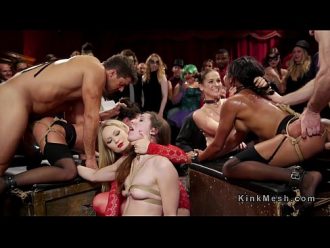 In theory and in practice bdsm is not about "men dominating women". It may involve women dominating men, or men dominating women, or women and men taking turns, or it may involve only men, or only women. Moreover, most men and women in bdsm change their role according to their mood or their partner's.
People may have complex preferences: a bisexual woman may take either a dominant or submissive role when she is with a woman but take only the dominant role when she is with a man. A man may switch with women but prefer to be submissive when with men. There is a kaleidoscopic array of possible combinations, in which the individual figures refuse to keep still to be counted. 
It's also argued that bdsm perpetuates a male style of thinking and acting that oppresses women regardless of the gender of the participants. It "eroticises power differences". Patriarchy, the argument goes, requires domination and submission to exist, so it preserves itself by conditioning people to be aroused by dominance and submission.
Bdsm therefore reinforces patriarchy even when the woman is dominant and the man is submissive, or no women are involved, or no men are involved. Inequality in sexual activity – of any kind – is "unnatural" and a betrayal of women. In a post-patriarchal world, with genuine and thoroughgoing sexual equality, people would only ever have gentle sex and only be sexually excited by equality.
The argument demonises a lot of human interaction that the people involved enjoy, and casts women as perpetual and permanent victims regardless of how they perceive their own relationships. It allows no improvement, except by the replacement of the human species by another, gentler, and perhaps duller species that does not currently seem to exist.
(To be continued.)