Monica lay facedown on the bed, legs spread, ass arched up so she could lube herself. She turned to watched me watching her, her finger glazed with lube, delving into her ass. "Do I look hot?"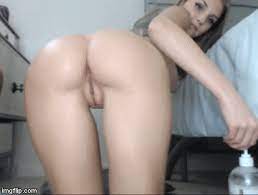 "You look hot. Also obedient, which I like. And beautiful. So, yeah, you're pretty much my ideal woman."
She pulled her finger out and half turned, to coat it with more lube. "I feel hot. I mean turned on. But I was sure this looks pretty good, in your eyes."
"Yup."
"Pervert."
"And proud of it." I smacked her thigh. And put a condom on, because she really was enticing me.
"Good boy. Master! Re condom. Can I – ?" She rolled over and sat up, taking my cock in one hand and slathering the other with lube. I said nothing. She knew that lubing me was almost sex in itself, and that if she did it for long I'd need a new condom, and some down time.
She looked in my eyes. "I guess this is service. It feels good." 
I kissed her, since her face was close. "This is sort of service. But real service comes from doing things for your Master that you wouldn't usually get pleasure from. Like, how are you at ironing shirts?"
"I suck at it. Guess I can learn. I can imagine how it'd feel sexual if it's slave service, and I knew that I'm pleasing my Master. But I'm pretty good at looking after boots!" 
"Then you get both, pipi. Uh, it's time you got on your hands and knees now." 
"It is." Monica turned and got into a sort of catlike position, knees wide apart, back arched so her cunt and glazed asshole were pointed at me. I got up on my knees and shuffled forward till I had my hands on her hips and my cock just touching that tight muscle. So she knew I was there.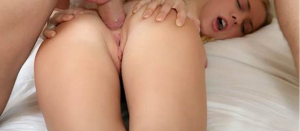 "Just say if it gets uncomfortable, or painful. I only like to hurt you in ways I can control." 
Monica shook her head violently. "No! I want you to fuck me hard. I don't care if it hurts. All the better if it does. Just fuck me. Er, please, Master."
So I smacked the sides of her crimson, richly warm and red ass, and pushed forward,, until the head of my cock was firmly inside her. 
Monica groaned.