Monica slipped her hand into my back pocket while we walked to the taxi ramp. She said, "I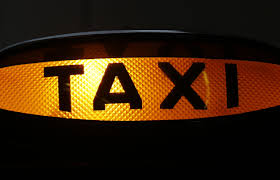 bet you're NSIT." 
"What in the world is that?" 
"Schoolgirl code. I went to a very snobby school. We'd give each other warnings about boys. That one means 'Not Safe in Taxis.'"
"Oh. Then I must be NSA."
She frowned. "Funnily enough, we had that too. Did you mean 'Not Safe Anywhere'?"
"Yup." I tried to sound smug. 
"Oh," she said. "An NSA man. Oh no. Help."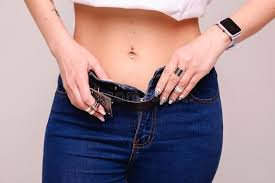 "Take your belt off and give it to me."
She stopped walking and looked at me. "Why?"
"First, I think you should do as you're told. It's more fun, and it's safer for the state of your arse, and arguably your dignity."
"Ok…" She didn't sound at all convinced, but she undid the catch on her narrow, black leather belt and passed it to me.
I took it from her, and dropped it into my jacket pocket. "It's so I can wallop your arse with it in the taxi, if you don't do as you're told."
"You're hoping I'll take that as a dare, ren't you?"
I kissed her. "I'm hoping you're a good girl. But I'll know what to do if you aren't."
"Hmmm…" Calculation was going on, behind that forehead. I didn't mind which she chose, but I supposed it mattered more to her.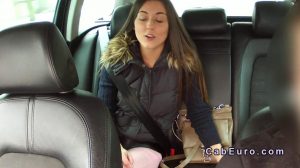 We were close to the ramp now. There were no cars there. While we waited, I said, "In the taxi you'll undo the button of your jeans and tug them down a little."
"So you can, ah, 'wallop' my poor arse?"
"Actually, it's so I can keep my fingers warm and wet till we get to your place. Might keep you wet too. So I'd advise you to sit where the driver can't see you in the mirror."
She grinned. "You're a very rude boy. Even by my standards."
A taxi pulled up. She got in and sketched over to the right, where she wasn't in the mirror or the camera. I sat in the middle of the back seat, so I could reach. "And you're a rude girl."
The driver said, "Where we going?"
Monica gave an address in Annandale. Then she looked at me, making sure I was watching while she undid the button on her jeans, and wriggled a little while she tugged them part-way down.
The driver said, "Annandale." We were off.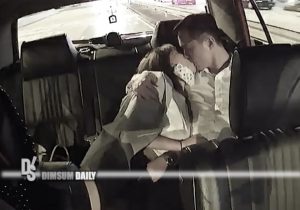 I put my hand into her pants, and found the nicely damp gusset of her panties, and pulled that aside to reach soft, feminine flesh below.
I smiled and said, "Good girl. Also beautiful," and slid two fingers into her. She was nicely wet, and she squirmed.
She said, "Uh," when those fingers entered her, and then, a few seconds later, while I lightly finger-fucked her, "Ooooh."
Monica whispered, "The driver…"
I kissed her, fingers still wetly held, slowly moving. I pressed deep into her, held it and then very slowly withdrew, and Monica seemed to lose her train of thought. I whispered, "Can't see you. Or my hand."
Actually, the taxi smelled headily of female arousal, and probably male, too. But there was a faint acrid smell of tobacco in that cab: the driver was a smoker. I thought there should be a new health warning: "Every cigarette is making it harder for you to smell turned-on girls." 
I chuckled at the thought. I hate the word "chuckled", but that's what I did. Monica whispered, "What?" 
"Tell you later. Spread your legs more."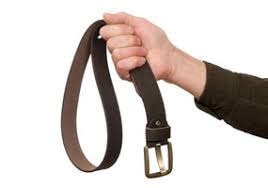 Monica closed her thighs on my hand. She looked at me, amused. I whispered, "No, spread them."
She squeezed her thighs on my hand. It was far from unpleasant. But she'd dared me to belt her in a taxi, and I was going to have to do it. Traffic was terrible. We were still a long way from Annandale. I took her belt from my pocket.