Something clicked in Teresa's mind as she bent over her desk. She opened her eyes and mouth. In the book beside her bed, Tessa's Duties, by Cerise Nates, the dominant billionaire Julian had called virginal secretary Tessa 'little minx', just like Roland had called her now. And that phrase, 'Stretch your arms out sideways, and don't move them': that was word for word from her favourite passage.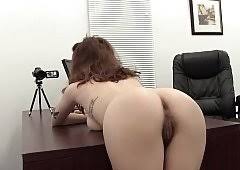 She glared back at him, but without rising from his desk. "Hey! You bastard, you did read my books! You read Tessa's Task! Are you being Julian?"
"I haven't read Tessa's Task." She suspected that'd be true, though misleading. He'd only had have time to read a page and a half of it.
But it was her favourite page and a half. She guessed that Roland wanted her to have the experience of something she'd thought of, magically coming true. So she was generous to him, and didn't call him on it. He smacked her again, harder. "It's time you had a proper spanking, girl."
"I've already had one! You just spanked me, remember?" It was odd having this defiant conversation with her nipples and nose obediently pressed against the wooden desktop. "And that was on the most tenuous excuse I've ever heard." 

"Teresa, I said a proper spanking. You've had the first half. When you've had the second half, then you can say you've had a proper spanking."
But he followed that nonsense by putting his hands back on her bottom, and dug his thumbs into the balled muscles, reaching and pressing into tension spots.
Teresa said, "Oof", then moaned softly. The nonsense he sometimes spoke was only nonsense, but his touch was real and it felt good.
After a couple of minutes of firm massage he stroked in the deep valley between her buttocks, very lightly touching her cunt. Teresa closed her eyes and moaned while he ran his fingertips along her lips, getting them wet. She was wetter. She asked, "Is this the proper spanking?" She tried, for comedy purposes, to make it sound as if she hoped so.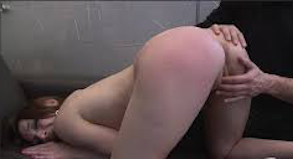 Roland only smacked her, hard, making that pistol-shot sound of palm on flesh. "This is a proper spanking." He smacked her again, still hard, on the other side. "Now keep your arse up, Teresa. You look hot like that, and you know it. Also, you want to give me a perfect target."
"Please don't hurt me. Not … too much. Sir." Her voice was little. Her voice sounded little to her, and she was surprising herself. Teresa didn't know, just then, whether she was play-acting or if the spanks she'd already had, and the commands she'd already obeyed, with the promise of many more of both to come, had let her drift into a smaller, less powerful state of mind. There are pleasures in helplessness. Teresa decided to let go, turn off her mind and float, discovering and exploring downstream.