Ojastara crossed the threshold were the Landgrave apparently waited for her. There had been guards, but they made polite gestures, ushering her in. They intended to make it more difficult for her to leave, she knew. But that was a problem to be considered, lightly, later.
She walked through many carpeted and veiled chambers until, in a small room at the rear of his palace, she found the man who must be the Landgrave. He was in bed, while his subjects worked. But when she arrived he rose from his bed, naked, and walked towards her. She stood her ground, neither retreating nor advancing. "Welcome," he said. He made to embrace her and she backed away. 
The Landgrave said, "Please, beautiful lady. I know that you pleasured one of my subjects, but took no pleasure for yourself. Unless you include the pleasure of crushing his balls with your skull. Which would at best have been a pleasure of another kind. I offer you pleasure of the kind you had given him. Nothing more than that, and no less."
Ojastara frowned. "I came here immediately after dispatching your guard. How could you be aware of that incident?"
"This is a fairy-tale kingdom, though I am only a Landgrave for one district. But fairy tale technology applies throughout. I watched you in a mirror. You might call it a magic mirror." He was smiling. He did not believe in magic mirrors, or expect her too.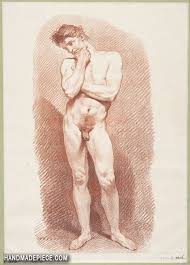 "Or a mirror that can reflect scenes at which it is not temporally present, but where it has been before. Light rays travel in space and time. I may not call it magic at all, that that light reached your mirror, and therefore you. But you're right. I gave that man sexual pleasure, and then unconsciousness. I took no pleasure for myself. Therefore, as his employer, you owe me." By now she was smiling. This argument was playful, silly even. But silliness often turned her on.
The Landgrave said, "Well, I'd disrobe, but I seem to be unclothed already. Would you like to come to bed?" 
Ojastara, also naked, watched the muscles of his buttocks and thighs as he climbed onto his bed. He turned onto his back, leaning on cushions, and tapped a cushion beside him. Sao Ojastara stepped forward, climbing along the bed on her hands and knees, like a predator; like a fox. She smiled at his penis, which was already more than Hal;f erect, and licked the underside of the head.   
She said, "I suppose I do."
The landgrave moved suddenly, forcefully, and pushed her mouth off his cock, and her body down, face down, to his bed. His right hand smacked her bottom, six times, hard, while Ojastara squirmed and pretended, with becoming hypocrisy, not to be enjoying herself. The fingers of his right hand pushed lower, and touched her soft lips. Ojastara said, as though it meant a great deal, "Oh!"