"It's nice that you're holding me," Maddie said. "I appreciate that you do care about me. You sadistic bastard." I pinched her nipple, hard. "Ow! No, seriously, I do like it that you care about me. May I rub, sir?"
"No. I meant to hurt you. Stay where you are and hurt, Maddie."I resumed the pressure on her nipple, a little harder.
She nodded. "Thank you, sir. And I do love that you're cruel, and that you care about me. But I didn't tell you that story so you'd sympathise with me."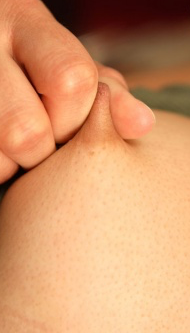 I let go of her nipple then, getting a gasp of pain from her. Then I rubbed and pressed it soothingly, since someone had to. "It's a parable?"
"Yes. I don't mean, watch out or someone will rape Jennifer. I'm not being that exact. It's just that I think it'd be a pity for you and a tragedy for her if you both missed out on having each other." She laughed. "Together! For the first time!"
I tweaked that nipple again, in warning, and cupped her breast with my hand. 
"Mmm. But I worry that you and she will miss out on something that would be very special.I don't know."
I kissed her. I had nothing to say. But she did need to know she was held, and loved. She relaxed into my arms this time, and there was a moment when it seemed she would roll back, pulling me down on top of her. But she drew her head away, and looked into my eyes. 
"I just want to say there are a whole lot of things that can go wrong in the universe. Jennifer's eighteen. And she's very horny. Horny for you, sure, but she's also just horny in general."
"What makes you say that? I mean, horny for me, specifically?"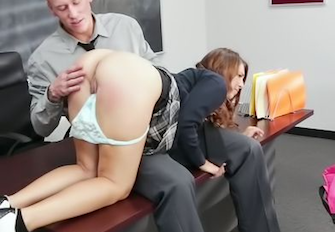 "I watched her leave, the last time you spanked her. She was absolutely … blissed out. I know we're not the same person, Jennifer and I, but I do know, close enough, what she's feeling. Because I've watched her and heard her, and I've been exactly in her place."
"True enough."
"I promise you, from experience as well as observation, she wants you to show her how sex works, to make her undress for you so you can hurt her. She wants to be disciplined. It's sexy and hot, and it makes her feel singled out. It make her know she's special."
"Well, she is."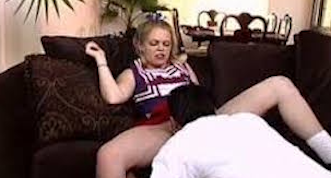 "So she should be. Sir. She wants you to spank her again, soon. Tomorrow would be good. And she wants the cane. Well, it's more that she wants to experience the cane. To be a girl under your discipline. And, a little later but not too much later, for you to take her and teach her."
I said, "So. I want you to make an appointment for Miss Perch to see me after school tomorrow. That should help her to feel singled out. And special." 
"After school tomorrow, for Jennifer. Spanking or the cane?"
"Don't know. I'll ask her teachers how she's been behaving. That will decide it. Probably a spanking. With a warning that it's the cane next time.""
"Watch her make sure there's a next time. And soon. And after that you should definitely fuck her. She's longing for that to happen. She's impatient."
I nodded. I'd felt that too, about Jennifer's reactions over my knee. "And I should make it happen."
"Yes. Soon. And you should make sure its special."
"Um, Maddie. What happened to you, when you knocked on the door? And he let you in and saw you? All messed up, my poor girl?" 
Maddie drew in a breath.
The next episode is here.