Other questions had to be decided. One was whether to tell Raylene in advance how many strokes she was going to get.
I like to have a number in mind but to keep the girl in suspense as well as pain, until I put down the cane, or whatever I'm using, and tell her that her lesson is over. 
A girl who belongs to me can usually tell, once she's familiar with being disciplined, that it's nearly finished when she gets two hard strokes in a row.
The last two strokes – have I mentioned I'm a traditionalist? – are always the hardest. Even then, she can't be sure it's over till I've told her it is. And if I see her relax after what were going to be the last strokes, I'll add a couple more just for the mischief of it. It's a dom's duty to keep things suspenseful. 
A related question was whether to make Raylene count the strokes out loud and thank me. Girls getting the strap, paddle or cane often do the counting and thanking thing without being asked, if they've had a master or a dom before. I'll let them if they want to.
But I only require a submissive to count and thank me aloud if I think she'll find it hard to thank me properly for her lesson. Or else if I want to force her to stay focussed in the present, so that she feels the punishment fully and can't so easily drift off into yummy old subspace. Or I might just want to hear her trying to keep her voice steady.
The fact that it was Raylene's first time with the cane decided both of those issues. I wanted her first time to be challenging but perfectly endurable, and I wanted her to experience it as sexual.
Therefore I was going to tell her the number of strokes, and tell her she wasn't to count them out loud. She wouldn't have to think about either issue. If she did float away on me, all drifty and blissed, then I'd be happy and also flattered. I wasn't actually expecting her to drift into sub-space, but I wouldn't do anything to make it less likely. 
The other question for a girl – where was that damn girl, anyway? – about to get her first caning, in front of at least one witness and probably two, is where I was going to put her.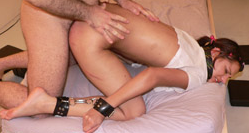 If we were going to be on our own, then I'd cane her while she lay face-down, ass arched up, on the bed, so I could grab her and be fucking her before she'd even processed that the caning was over. But that probably wasn't an option, with witnesses involved.
Some other arrangement would be called for.