Jaime (stepping out of the shower and bringing Gem a towel): Yeah, the time. Well, darling girl. Beautiful girl. [They look at the clock. Only an hour to check-out time.] Oh, fuck it. Anyway, I'll see you soon. You'll see me.
Gem: In a different world, of course.
Jaime: [sighs] Yeah, it will be. Well, I'll be sens – . Ah, I mean I won't say anything. I won't stare at you all the time. Well, not so much it's a giveaway. But you'll know. I'll know.
Gem: Yes. I do know. [Long silence. They hold each other, and rock together. Jaime eventually breaks the moment by kissing her nose, then her ear.]
Jaime: We'll always have the Hotel fucking Victoria.
Gem: I had a wonderful time. Thank you.
[She touches his cock, then grasps, stroking gently. Jaime realises he's getting hard again, with no time to do anything about it.]
Jaime: O-Ahff! Careful.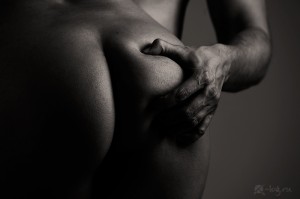 [He puts his hand on Gem's bottom, at the last second remembering not to smack. But he lets his hand stay where it landed.]
Gem [wriggling away]: No, you be careful. You've been good all week.
Jaime [who would put over his knee any submissive woman who presumed to tell him he was good, or bad; instead he pretends not to understand what Gem meant]: Thank you. But if I was good, you were fantastic. 
[His hand is still on Gem's ass. He squeezes, to remind her he can hurt. Then he pats, very, very lightly. Gem looks at him, her expression unreadable.]
[To be continued]