I considered putting my fingers in her mouth, making her lick them clean. But perhaps that'd be in the wrong genre. Another time. "Hold out your hands, Chloe."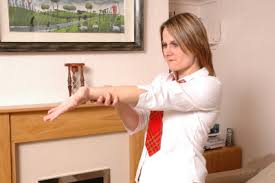 "Yes, sir." Chloe obeyed, and watched me lift the strap and let it fall behind my shoulder. I didn't know how hard I should swing it, but without some force it wouldn't swing at all. Well, many generations of real schoolgirls and schoolboys had been strapped on the hand, so although I disapproved of real corporal punishment, hand-strapping must be basically safe.
I swung the strap as gently as I could while making sure the folded leather arced through the air and landed on Chloe's outstretched hands. There was a loud swack – a heavy piece of leather doesn't want to be gentle – and a musical "ah ow!" from Chloe.
She'd flinched before the strap landed, and winced attractively when it did. It had hurt, which was good, but not too much. It hadn't jolted her out of her game. She kept her hands steady. A second or two later she said, "One, thank you, Sir."