Chloe bit her lip. "Yes, sir." Chloe didn't bite her lip when she was nervous. This was acting. I wondered how I could be sure that she was enjoying this. Was she wet under that little skirt?
It occurred to me, at last, that she could never have worn her skirt like that to her expensive school. It was far too short. She must have worked – when? – to take the hem up to its current, absurdly sexy, height. Still, however much she'd prepared for this, she might have changed her mind now that it was happening. I realised that I didn't have to wonder about this. Mr Mortimer had the power to find out.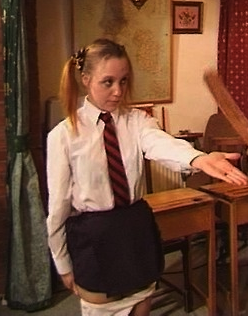 He said, "Take down your panties."
"Sir? I thought you were going to strap my hands."
"I'll strap your hands and your legs if you don't do as you're told, girl."
"Yes, sir. Sorry, sir." Chloe reached under her skirt and tugged the panties halfway down her thighs, taking care not to lift the hem more than necessary for the purpose.
She put her hands back out.