At a signal from Chloe – she said, "Are you going to fuck me", with slight impatience, rather than, "Please fuck me, sir", which told me that the game was over and we were back in propriae personae – I helped her up, embraced and praised her, and helped get that uniform off, undoing buttons and tugging with clumsy impatience, then shed my own clothes and pulled her to bed.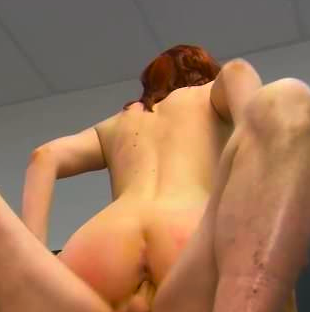 Chloe wouldn't let her strapped skin touch the sheet, let alone lie on her back. I wanted to fuck her from behind, sinking my cock between her glowing buttocks, but she ruled that out too. She wanted nothing harder than air to touch her bottom. So I lay on my back and let her straddle me.
She leaned down to kiss me and didn't break the kiss while she lowered herself onto my cock, filling herself.
Then she sat up to ride, her nipples drawing pink spirals in the air as she bounced above me.
One last surge of cruelty took me as she was close to coming, and I reached back and smacked her burning skin while she grunted and galloped; and for the first time in months she made her crying and hiccoughing noise, as she came and fell forward onto me.
But this time there was laughter in the mix.
Chloe rested on me and I held her until she snored gently, her nose healthily cold against my neck. I lay awake and considered my new experiences.