We stood, a naked woman and a clothed man standing close behind her, both facing the top of the stairs. Raylene held an armful of her clothes to her belly, and she was biting lightly on the razor strop in her mouth. She'd arched her back to press her buttocks and cunt back onto my cock. She'd rubbed a wet patch onto that lump in my jeans.
It was time to warm her arse properly. I was sure, from the way she'd responded to the smack of my hand across her ass and thighs, that I knew how she'd respond to the leathering. She'd be curious about her own sensations when I started, then the heat would build up, which she'd experience as pleasure. I'd make the last few strokes harder, and I expected that they'd make her desperate, needing to be filled and fucked.
I wanted her submission from her as urgently as I was sure she needed to give it. I expected the half querulous, half joyous grunt she'd make when my cock entered her would be the same as the sound she made when she felt the first hard stroke with the strop.
For now Raylene seemed completely focussed on rubbing her cunt on my cock, through my jeans. And maybe she was thinking about what I intended to do with the razor strop she held in her mouth.
I put my hands on her hips and sighed with the pleasure of this moment, and the possibilities ahead of us. She felt my breath on her neck and shoulders. Suddenly she had goose bumps. I kissed them.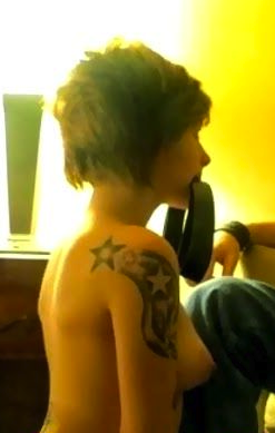 Raylene made another nasal noise, whose exact meaning was unclear. It seemed she wanted something. I decided it was time to let her speak again. Or that it was time to let her feel the razor strop. Or, of course, both. I reached up and stroked Raylene's cheek, touching a finger to the corner of her mouth, then gripped the handle of the strop.
Raylene froze. She knew what that meant, and no matter how much she might want to feel that leather landing across her skin, and no matter how excited the anticipation was making her, it was still alarming to know the moment had come. 
"Mouth open, Raylene."