When a Dom has a naked girl bouncing on his lap, because he is naked too, and turned on, and he is spanking that naked girl hard with her own wooden spoon … Ah, I think I've lost my train of thought.
Oh yes, if she seems to be enjoying herself and getting into the spirit of the thing, it can be helpful if he lectures her, telling her she's the sort of bad girl who deserves this terrible punishment. That terrible punishment she's arching her bottom up for, mouth open and happy, eyes sparkling.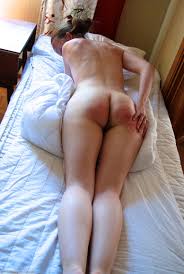 So I said, "From now on, you do as you're told, Monica. What do you do?" The wooden spoon spanked nice rounded girl, keeping her arse in motion.
"Uh. UH. As I'm told! Sir!" I took her arse in my hand and squeezed fondly. Warm, she was, and burning hot in places. She sighed when I squeezed her again. "That hurts, Sir." 
"Is that a complaint?" 
"No! Definitely not, Sir!" That arse wriggled under my hand. "Actually it really isn't."
That was probably submission, I decided, and rewarded her by slipping my hand down between her buttocks and stroking her cunt. She shivered when I touched her folds, a wet girl, then froze when I slipped three fingers into her, and began her finger-fucking. Her head fell, forehead touching the sheet, her body abandoned to me. She said, "Duh."
I continued the lecture. "Whenever you don't obey me, Monica, you can expect to be over my lap again. And I'm going to bring a cane next time, and leave it in your wardrobe."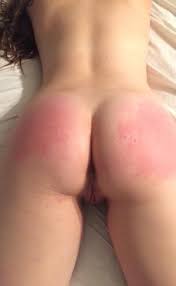 "I've heard about canes. Yes, Sir!" I continued her spanking with my hand until her head was up again, and her whole body moved with those three snugly held, wet fingers.
She was in plateau, high, happy, and ready to come. I let her edge closer, and at what may have been the last possible second pulled my fingers out of her, took up the spoon and resumed her spanking.
The strokes were hard, and she yowled as I landed them on that round, red, moving target. It was happy, sexual yowling. She'd been expelled from paradise into another kind of paradise.
By then she'd had about fifty of the promised hundred strokes. I slowed the pace, and spanked harder still, so that she felt each one individually. She rode and rolled on my cock. She was receiving this as strong stimulation, but definitely not as pain. After fifteen very fierce spanks, I said to her, "Sixty-five." 
"Oh. I wasn't counting. That's a lot. And there's so many to come!" 
Actually, I hadn't been counting very carefully either. Sixty-five was an estimate. I rolled her off me, onto the bed. "Hands and knees, Monica. Arch that arse up!"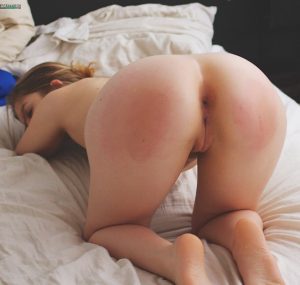 She obeyed quickly, though I smacked her with my hand for not acknowledging the order. But I didn't bother to explain why, so it wasn't good Domming.
But I was busy extracting condoms and a sachet of lube from my wallet. I knelt behind her, my knees between her calves, and admired her anus and cunt, perfectly presented for me. I tore a condom wrapper with my teeth and put it on, then, more carefully, opened a tear in the lube. 
Monica, tensely waiting for my cock, instead felt my thumb, slippery, pressing her anus and then entering. I added more lube there and to my condom. "Oh," she said. "Oh. Sir."
I edged forward so my cock touched against that little orifice.