I'd just lubed Monica's tight little asshole, putting the rest on my condommed cock. There's a speech I usually make at that moment, at least the first time, where I check consent and make it clear that she's in control.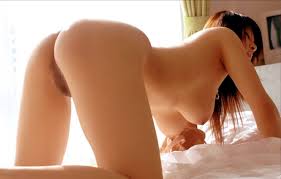 But Monica reached back and put her hands on the sides of her buttocks, parting them to give me better access. So I decided that consent was given, and that the rest of the speech wouldn't be right: she liked the idea of me being ruthless, taking what I wanted. The whole point of Domming, and of hypnosis, is not to break the illusion.
So I growled, "Keep that ass up, girl, if you know what's good for you." 
Monica made a little vocal noise. It didn't have words in it, but I took it that I'd said one of the possible right things. So I put my hands at the top of her thighs, squeezing hard enough to hurt a little, I hoped, and pushed forward. There was an instant's resistance, and then she opened and I was inside, the head of my cock tightly held in slippery, lubed muscle.
I said, "Yes." That was just pleasure. Then, for her, I said, "Good girl."
Monica made another sound, a sort of gurgle. I looked down, feeling enormously fond of her. Her face was slightly turned to the left, and there was drool on her pillow. For some reason I found that utterly, absolutely hot, and I pushed further forward. Monica wailed. There was discomfort in that sound, but also celebration.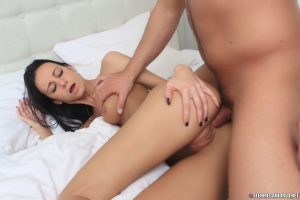 We moved together then, so I was fully in her, and my belly and thighs pushed against her bottom, still blazing hot from her wooden spoon spanking. We held still, both of us trembling, trying to savour the sensations and not move.
Eventually Monica said, "Ah, fuck … "
I said nothing, but took that as a request, and pushed forward to take one last centimetre, then withdrew a little. And then returned. Monica kept still at first, hands still holding her buttocks for me, but then she put her elbows back on the bed to support herself while she moved with me.
I smacked the sides of her ass, and then her thighs, while we fucked, and she made a sound, not in response to each blow but of gritty appreciation. So that was right too, but I soon lost the ability to coordinate the smacks and fuck at the same time, and simp[ly held her by her hips and fucked her. Time passed, with us focussed on movements, bodies and sensations.
Eventually Monica wanted to speed up, and I let her, keeping up, until she made a series of low, guttural grunts, and her anal ring tightened on the shaft of my cock. Then she screamed once, briefly, and then, panting hard, slowed to a stop.
I gasped, "Good girl. Very good girl."
"You're going to say that every time I come, aren't you?"
"Probably. I like your sounds. And how you feel."
"Heh. Then that's good. You'll just have to make me come often."
"Dib dib dib," I said.
"What?"
"Oh. You've never been a Boy Scout."
"Idiot. No one has ever called my bum boyish."
I was still hard inside her. I hadn't come yet. But the break was good. "Don't care about boys' arses. Yours is perfect."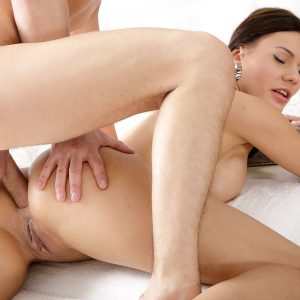 She gave a little chuckle. Then she said, "I've never done that before. I mean yes, of course I've had anal sex before. But never as the first fuck. It was … Why did you do that?"
"Well, it's very intimate. And to me it feels like it demands a kind of surrender from you. I wanted you to know that I want your, well, your submission. And it means that as far as I'm concerned normal rules don't apply between us."
She nodded. "Yes. They don't. I feel that. I mean, as an emotional feeling."
"Good. And it means to me, and I hope to you, that I, uh. I uh want this to be an important relationship. I mean I feel that it is. Going to be. No, already is." I grimaced. I hadn't expected to say that so clumsily.
"Yeah. I thought that's what you meant. Glad I wasn't wrong. You haven't come yet, have you?"
"No."
"Good. Fuck me now. Hard as you can, rough as you want. I want to feel you splash in me."
"Yeah."I could have made an issue of her giving me commands, but I just smacked her ass again, to preserve that whole Who/whom thing. Then I did as I was told.