Note: Sorry, I skipped a couple of weeks, with this serial. The previous episode is here.
But where we're at now is that Seamus and Asuka's friend Yua has just licked Asuka to orgasm while Seamus fucked her from behind. The three of them are now lying on the floor, in a pleasant post-sex haze.
In the Realm of the Sensei
Seamus found himself softening at last, and he had to withdraw from Yua's cunt, with one finger pressed on the rim of the condom so it came with him. He saw Asuka watching him, amused. He knew she thought the faces he pulled, when he had to withdraw from her, were hilarious: she thought he looked like he was being tortured. Cast out of heaven, certainly.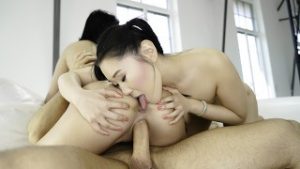 He rolled onto his side and looked at the two young womens. Asuka lay on her back, thighs parted and her hand on Yua's hair. Yua lay on her tummy, now Seamus was no longer inside her, licking and kissing Asuka's lightly trembling belly.
Seamus knew that immediately after she'd come Asuka felt her cunt was too sensitive to touch, and she generally directed his attention to her belly, or if he was still insistently horny she'd take his cock in her mouth, or turn and offer her asshole. That was always an invitation he found hard to resist.
But he was surprised that Yua knew not to touch Asuka's cunt immediately after she'd come. Then he thought about that and stopped being surprised. Yua had had his girl before. Without his knowledge. Or consent, of course. He reached over and smacked Yua's bottom, lightly and prettily cane-striped, and when Yua purred at that, he smacked her again. The stripes, he noted, were already starting to fade. He'd applied the cane lightly, to both girls.
He said, "All right, you two. Bed." He helped Asuka to her feet. Yua stood without his help, and got another hard spank as reward. He wanted to make them walk in front of him, but both Yua and Asuka came to his side and put an arm round his waist, so he put an arm over each girl's shoulder and they walked together.
When they landed on his bed Asuka tried to put her mouth on his cock, but he took a handful of her hair and pulled her back up. Asuka knelt facing him. "Sensei, we have something to talk about."
"Yes?"
"Yua. Yua wants to live with us." Seamus glanced at Yua. She kept her face blank and said nothing. Then she got off the bed, and knelt on the floor, looking up at him. Obviously Asuka was to be her mouthpiece.
Seamus smiled. "Well, she can visit."
"Please, Sensei. She knows that her and me, we can make yours the happiest cock in the world. We'd both like that. You can keep us happy."
"I said, she can visit." 
"But she trusts you. Same as I do. You will look after her, and she knows you'd make her work hard at school. Not just in your classes, but you could make sure she worked in all her classes. She should be a top student, shouldn't she?"
Seamus glanced at Yua, who stayed kneeling and impassive. He said, "Well, Yua likes discipline too much. Even if I caned her every time she didn't do her work – which would be every day – she'd still enjoy herself."
Yua reached under the bed. She held a flat cardboard box, in gold paper, and handed it to Asuka. Then she returned to her kneeling position, looking up at Seamus.
Asuka held the box out to him. "She got you this. It's to show you that she's serious. And this … this is something she is afraid of."
Seamus frowned, but took the box. He tore the paper off, screwed it into a ball, and, after a second's thought, held it to Yua's mouth. Yua opened obediently, and took the paper between her teeth. It was, perhaps, the first time he'd seen her do something submissive that wasn't fun. He opened the box.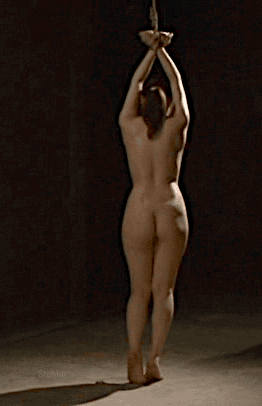 There lay, coiled, a little whip with a wooden handle and a tail of hard, woven leather, a little longer than his arm. He took it, wonderingly, and looked down at Yua. She was nervous, he saw. She bit on the ball of paper in her mouth, trying to swallow. Asuka said, "Yua says she can't imagine enjoying this. She says you may use it on her whenever you wish. As hard as you wish. But she will do whatever she can not to deserve it."
Asuka looked down. His cock, he knew, was hardening, lengthening. She knew that she, and therefore Yua, had already won.
She said, "Of course you will use it on me, too. But I already know that's not my choice to make."
Seamus took the whip in his hand and put the box on his bed. He turned to Yua, and took the paper from her mouth and dropped it on the floor. She closed her mouth but did not otherwise move. Seamus couldn't hold back a smile, though he tried. "Yua, I suppose Asuka can find you space in her drawers and the wardrobe for your stuff."
"I already have, Sensei!" Seamus ignored her.
"Yua, we have a lot of rules to talk about. And you know you've already deserved your first touch of this -" He shook the whip.

"Hoippu," said Yua. It was the Japanese word for "whip". 
"What?"
"I mean, I'd like to think of you as Hoippu. The man with the whip, who whips me. Hoippu Sensei. May I address you as that?" 
Seamus didn't answer. He knew that she already knew the answer to that. He would be Hoippu Sensei. He said, "Yua, this bed appears to be yours, now. A third of it, anyway. So, welcome to the household." 
He wasn't sure who moved first. But within a second he was on his back, completely covered in squealing girls.