Asuka, unusually, had beaten him home.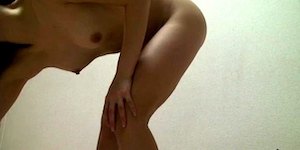 He opened the door to find her naked, and bowing, bent at the waist. Her mouth was pursed and partly open, in the same offer that Yua had made. He stepped inside. She undid his pants and took his cock in her mouth, sucking until he was hard.
He held her head tight to him, and pumped into her mouth. He had been holding back all day, thanks to Yua's temptations. But at last he pushed her head away. He didn't want to come in her mouth.   
She said, "Am I a bad girl, Seamus?"
"No, you're the best of all possible girls. Little tanshi. Angel."
She smiled, but she said, "I want to be your bad girl again. Do what you did before. Everything."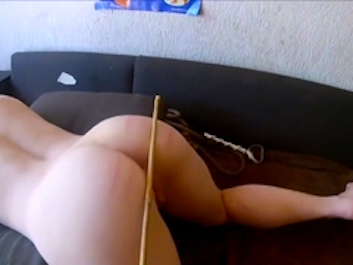 So Seamus led her, her hand in his, into the bedroom, and she knelt on all fours on the bed while he caned her, two dozen strokes, but not as hard as the first night he'd punished her. Still, she cried out and wriggled with every stroke, for his benefit. She enjoyed putting on a show. 
Asuka was entranced, expecting more, but he climbed onto the bed, placed his knees between hers.
He used proper lubrication, recently purchased, to ease his path before he condommed up and entered her tight little hole.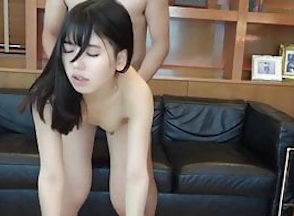 Their fuck was rougher and faster than their first time, and Seamus managed to stay with her until she'd come repeatedly, and slumped flat onto the bed, exhausted. He fell beside her, sweating and cockproud.
When they'd recovered, Asuka said, in English, that a woman's work is never done.
She padded, naked, to the kitchen. She cooked for him again. Until then it had mostly been Seamus who made meals, but she seemed to have decided it was her role, since her surrender. Or conquest, whichever it truly was.  It was as if she cooked as a kind of erotic theatre. She was role-playing, being a submissive Japanese wife. She could play with that role, because it was one thing she never would be.
When she'd made something with noodles, prawns and mushrooms, she brought out only one plate, for him, and slipped her robe off. Naked, she offered him morsels with her chopsticks, occasionally taking food for herself. Seamus humored her for a while, but he felt too much like a baby bird being fed by its mother, and he told her to sit beside him and eat. She did. Heartily.
Afterwards they lay on the couch together, both naked, Seamus lying on his back and Asuka snuggled in his arms. Eventually she said, "You caned Yua today."