When I was scrubbed pink and clean, and patted dry, Nana led me to the bed, her hand holding me by my manhood.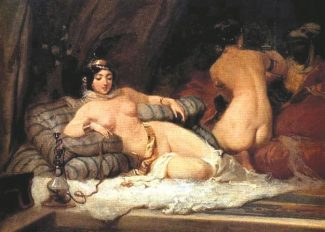 The previous time I'd been with two women at once they had desired each other as well as men and, I suspect, they had hunted together before, choosing a man they both wanted. So in bed they had entertained each other with cunnilingus at times I was recovering my powers.
But Ruxana and Nana seemed to have no interest in each other, though they made each other laugh and were on sisterly terms despite their slightly competitive approach to me a little earlier. So I took Nana first. She was an energetic and comfortable ride, once we got to grips with each other.
Ruxana kissed me while I rode Nana. And unavoidably, though I was trying to save myself, I came in her, and that was sweeter than sugar. Nana kissed me like a lover, and then pressed my head down, gently encouraging, and trying to suffocate me, pleasurably, between her breasts. 
Then, with only a little encouragement from Nana's tongue and mouth to get hard again I did the same, mutatis mutandum, for Ruxana. But when I was spent for the second time, and both girls were also happy, I knew that I didn't want to quit them, and they showed a flattering disinclination to let me go.
So I pushed Nana down and put my hands under her splendid bottom and applied my tongue to her.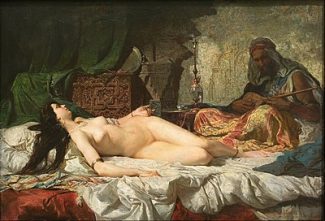 She seemed astonished at first, but she was soon happy to lie back, holding my head and writhing under me, to be pleasured. I wondered at that, because it seemed unlikely that a woman in her profession would not have encountered cunnilingus before.
But then, I expect that not a lot of women got their private parts kissed and licked in Kentucky, where I came of age. I had not been taught the skill till I first reached Paris a few years later.
Perhaps Nana had not yet encountered it, or she hadn't expected it from a man. When Nana had raised her legs in the air and squealed triumphantly, I kissed her, my face still wet with her, and rolled over, pulling Ruxana into her place.
I kissed Ruxana's breasts while Nana stroked me, keeping her breasts pressed firmly against my side and in my awareness. Ruxana looked at me, eyebrows raised. She wanted to say something, but neither of us knew a word of the other's language. Still, the happy sound she made when I kissed her navel, and lowered my head further confirmed that I had read her right.