What does a bdsm collar mean? Generally, the best idea is to ask the person wearing it, and the person who gave it. They can tell you what that collar means. But only that one.
Their meaning won't be the same as someone else's. For example, if I see a woman wearing a collar in the local supermarket, I can't guess what it means. She might be proclaiming that she's a wild spirit and a bit arty, or she might be a Goth, buying bread, milks and eggs on her way to sack Rome.
She might be involved in bdsm, and wearing it for bdsm reasons. Even then, I can't know what it means. She might be wearing it to express her membership of the world of bdsm. No one collared her: she bought it and put it on herself.
It doesn't even mean she's submissive, necessarily. Plenty of women switches and doms also wear collars for that reason.
(Guys are much, much less likely to wear a collar in public. So I'm writing "she" and "women" for this part.)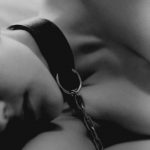 It might mean she's submissive, and the collar helps her to feel submissive, and there's a small sexual charge from expressing this part of her sexuality out in the open. But that doesn't necessarily mean she has a master/mistress or a dom.
Again, she's just quietly expressing her identity, to those who are able to read it.   
And then we have bdsm collars as most people think of them. A couple decided that they fit together well as dominant and submissive, and the dominant offers the submissive a collar. He or she accepts it, and so he or she become a "collared sub".
Even then, their understanding of what it means will be different from another dominant and submissive's understanding.
It may mean something like, "I am my Master's/Mistress's property, in the same way that s/he owns his/her table and chair. My sole purpose, in every moment and aspect of my life, is to obey and please my Owner."
Or it may mean something like: "I love it when s/he ties me up and spanks me when we're fucking."
I looked up "what bdsm collars mean", and found a hell of a lot of wild claims, generalisations and pure fantasy on this topic.
The only generalisation that I think is true is that it represents some sort of bond and commitment between the couple. Accepting and wearing a collar has powerful emotional significance.
But the reality is: you ascribe the meaning to a bdsm collar. When a collar is given and accepted between a dominant-and-submissive couple, there are no terms and conditions that automatically come with it. You set those for yourself, in negotiation with the person offering or considering accepting the collar, of course.
Next!
I'll write about what collars mean to me.